Why Rafael Nadal invests in Greek hotels
It's now official! As soon as it opens in April 2019, Sani Resort will host the « Rafa Nadal Tennis Centre ». Located in the heart of the Chalkidiki region, one of Greece's most popular destinations, Sani Resort challenges hotel codes by offering a unique infrastructure in partnership with tennis champion Rafael Nadal.
The « Rafa Nadal Tennis Centre », with no less than eight tennis courts available for players of all ages and levels. Trained alongside Rafa Nadal, the teaching team at the « Rafa Nadal Tennis Centre » offers an exclusive training programme for the hotel's guests. This program, based on the fifteen years of experience of the great champion, will allow tennis players to develop as much
their physical abilities as well as their technical skills.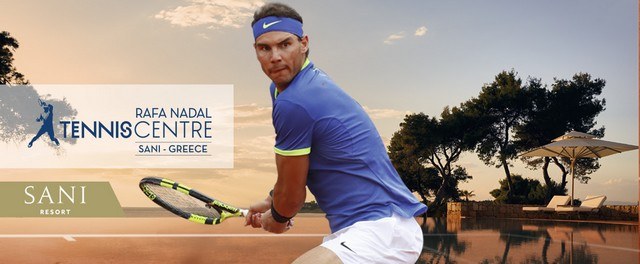 And to ensure a perfect transmission of the Rafael Nadal method, the teaching team received extensive training at the Rafa Nadal Training Academy in Majorca.
Rafael Nadal is himself very enthusiastic: « I am very happy to officially announce the opening of a new « Rafa Nadal Tennis Centre » in Greece as it consolidates the Academy's expansion project. I would like to thank Sani Resort for the confidence in our team. I am sure that this partnership will be a great success, especially for tennis fans, that I invite you to come and enjoy this beautiful establishment, starting in April. »
Dr. Andreas Andreadis, CEO of the Sani/Ikos Group, underlines the importance of the project for the tourism industry: » We are more than happy to open a new Rafa Nadal Tennis Centre for the year 2019. At SANI, we are very proud to offer our guests experiences
being innovative as well as rare, and what could be better than to come home with the lifelong skills of the living tennis legend Rafael Nadal? This year we are delighted to invite our guests to enjoy a brand new experience at SANI, while taking some
pleasure to rest and relax during their holidays at the resort.  »
This new tennis facility is in addition to the existing sports facilities at Sani Resort: in particular the football facility, developed with the Chelsea FC Foundation, launched in 2018.
A recent KTM bike club, a water skiing academy with instructors certified by British Water Ski & Wakeboard, and a sailing academy offer customers a unique and high quality sporting experience.
On the same subject