Beautiful Golf on Bowood
Recently, we made a small discovery between Bristol and Oxford in the United Kingdom. In the middle of the greenery, we met Bowood, his spa hotel and of course his golf course. It must be said that our English friends enjoy superb golf courses. We loved Bowood's.
A really interesting journey
You won't be disappointed, Bowood has already organized prestigious events, including the PGA Tour Challenge Championships. Dave Thomas transformed farmland to make a fantastic golf course that opened in 1992. The layout over nearly 6,700 m includes water obstacles and strategically positioned bunkers. Nothing is missing to challenge the most qualified visitors, while being sure to enjoy this incredible environment. Bowood gives you a feeling of peace and a very pleasant space.
Ideal also for occasional golfers
Golf World Magazine has voted « Bowood Hotel, Golf & Spa » among the top ten courses and the top 50 courses in Great Britain. Bowood's practice centre is attractive. There is a 3 hole course at the Centaur Academy, two practice greens, a covered and lighted practice and a short playground, all completed by a team of fully qualified PGA professionals.
A beautiful 18-hole course sometimes difficult
The first hole is a long par 5. The target line is just to the left of the right bunker. Two bunkers protect the green requiring superb distance control. A Par 3 named « Cascades : this hole is the first par 3 in Bowood. On the raised part of the green, you may not feel the wind turning on the tee, so be careful and avoid the danger of the green. A putt that is too long can cause you to miss the green and end up in the water. We are not going to reveal everything to let you discover this very nice course.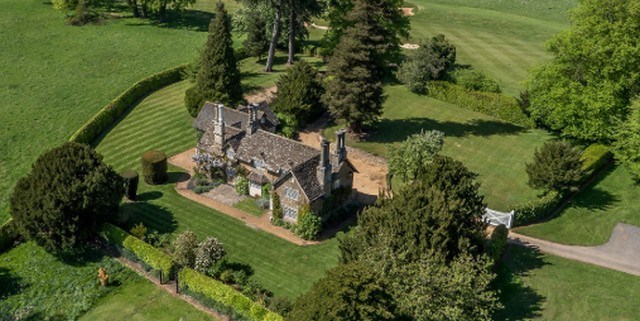 The Bowood Golf and Spa Hotel and its beautiful gardens
The hotel is located in the vast and beautiful park of the Bowood estate, next to the Bowood golf course. Bowood's sublime gardens are about a 15-minute walk from the hotel. Opened in 2009, Bowood Hotel is modern.
Externally, it is not really attractive.
But the interior was imaginatively designed by Bowood's owner, Lady Lansdowne. It feels like you're in a traditional English country house. A portrait of the 5th Marquis de Bowood of Lansdowne presides in the elegant library lounge.
Fine comfortable rooms
There are 43 relatively large rooms. They are pleasantly decorated in discreet tones and have surprising limestone bathrooms. All are equipped with an Italian shower and a bathtub. There are bathrobes and thick towels. Most of the rooms are either « Classic Courtyard » or « Classic Parkland ». Well, they only differ in their vision.
The restaurant is rather large
Shelburne Restaurant has a row of French windows that open onto a terrace with views of the golf course. There are some very good dishes that are prepared according to the season. You'll have to let yourself be tempted by a blackberry Bakewell pie. Breakfast, served in the Shelburne restaurant, includes a buffet where you will find good fruit salads and pastries, as well as a wide selection of ready meals, including porridge, omelettes and Benedict eggs…
Are you seduced? You can now go to their website: https://www.bowood.org
Serge Fabre
On the same subject