Refused as a flight attendant, she creates her own company
All his life Sibongile Sambo dreamed of being an air hostess. Admission standards seemed to be within his grasp. Yet, against all expectations, his admission was refused. But, not for long, because, small cause, big effects.
This refusal gave him the motivation to found his own airline: SRS Aviation. The company that takes you to new heights. The only African air carrier run by a woman.
When she learned that she couldn't be an air hostess, she didn't take the time to complain. She decided to create her own business. To do this, she sold her car and her mother helped her by offering to use her retirement pension. The time to start his new activity. The faith of the coalsmith no doubt. But his hopes were rewarded.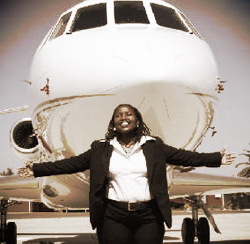 The South African government issued its operating license in 2004. The beginning was difficult. But Sibongile is stubborn.
From now on, it operates in partnership with MCC Aviation, which opens the door to the use of their air fleet and the various ground services operated by its partner.
His airline company is mainly specialized in business flights. But not only, because it operates cargo flights, helicopter flights and even flights for counting animals in animal reserves. Original niche transport in the African air transport world.
Maybe another way of looking at things ?
Today, Sibongile Sambo manages air charters all over the world. From $1,000 flights for tourists visiting South Africa to $200,000 flights to the United States or Germany for VIPs.
It has broken the monopoly of an industry which, before it entered the market, was exclusively dominated by men.
Yet his speech is not motivated by any desire for revenge, any pretext for feminist activism. She is simply a fighter, a professional. And that's plenty for him.
Since then, she has helped three women become pilots. She plans to do even better. Inspired by Ethiopian Airlines which now operates with all-female crews. It aims to become the first South African airline to fly with crews composed exclusively of women. For her, more than a challenge or a motivation. A passion.
Her ambition is clearly expressed she wants to extend the services of her company throughout Africa. She knows that Africa will grow economically. She wants to grow up with Africa.
A striking example of the ingenuity and strong motivation of African women.
On the same subject