Laurel and Hardy, a duo of zero defect heroes ?
The most famous comic duo formed in 1927 and formed by actors Stan Laurel (1890-1965) and Oliver Hardy (1892-1957) lasted nearly 25 years with more than 100 films and numerous theatrical performances. This duo will reach such a notoriety that it remains undoubtedly to this day the most famous tandem in the history of cinema. Their first studio is Hal Roach, then over the years the Metro Goldwyn Mayer or Universal will take over.
Their meeting in Jess Robbins' The Lucky Dog took place in November 19197. The film is an essay for a possible series of comedies in which Stan Laurel is nominated for the lead role. Oliver Hardy plays the complements and has already made more than two hundred films. He is recognized as a leading actor even if his physique often confines him to the roles of a valet.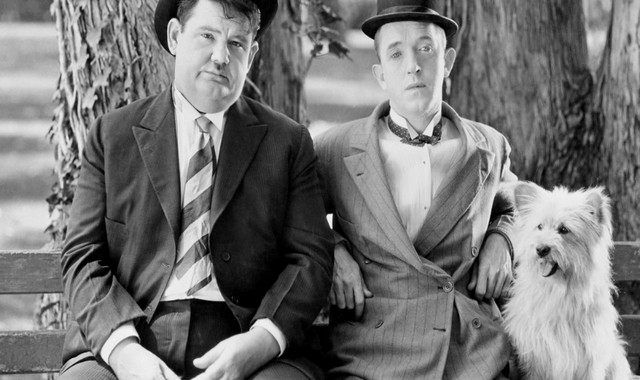 In their second film, Scandale à Hollywood (45 minutes from Hollywood, 1926), Stan and Oliver did not shoot any shots together and it was not until the third, Maison à louer (Duck Soup, 1927), that they developed into a duo. It is the first of the films presented as the « First Laurel and Hardy ».
Stars by chance
Their career should never have started, because Oliver Hardy was a singer, and Stan Laurel only wanted to write and direct and never act !
Laurel, the brains of the duo, came from Fred Karno's famous English troupe, where he was Charlie Chaplin's understudy in the years 1910-20.
Our two comedians gradually get used to playing together and discover that they complement each other. Gradually, they set up some of the gimmicks that will make them famous (scratching their skulls, looking at each other twice or groping their tie knot for Laurel, shaking hers, shaking their heads with confidence or looking at the camera in despair for Hardy, etc). But specialists consider that it was not until 1927 and « The Two Detectives » to talk about the birth of a real tandem Laurel and Hardy.
The mythology « Stan-Ollie » begins in 1927, with the film Putting Pants on Philip. We can thus confidently advance the date of 1927 as the date of the duo's creation, since that year was more particularly prolific with fifteen comedies produced.
End Clap
The two heroes found themselves without much fortune at the end of their careers having signed a very disadvantageous contract with the Hal Roach studio : they did not receive a dollar for all the television broadcasts that would follow.
Much of Stan Laurel's income was swallowed up in the many alimony payments he had to pay – he was married five times while Hardy squandered his money on horse racing bets his other favourite pastime.
In 1957, Ollie suffered a stroke and left this world. Stan remains alone with his memories and regrets (« Finally, I only really knew Hardy at the end of his life ») until 1965, after receiving a special Oscar in 1961 for his entire career. An avid smoker until the 1960s, he died of a heart attack on February 23, 1965 at the age of 74 in Santa Monica, California.
Laurel and Hardy : Behind the mask of jokers….
On one side, Hardy the fat, good-natured but authoritarian and angry; on the other, Laurel the small, submissive and dreamy but cunning.
This mismatched couple succeeded in forming a mythical film duo, first silent and then speaking. Several generations of spectators laughed to tears at their bickering, gaffes and clumsiness.
But who knows the true personality of these inseparable troublemakers? Hardy, a freemason, a lover of running and jazz, a skilled golf player; Laurel, a lover of violent sports, a virtuoso of big game fishing, a womanizer and, behind the camera, the true brain of the couple…
On the same subject