Never without her purse
Sending a woman was even better. When Nellie Bly began her circumnavigation in November 1889, she left on her own, carrying a single travel purse. His goal: to beat the fictional record of Phileas Fogg, the British hero of Jules Verne's novel, Le Tour de monde en 80 jours. .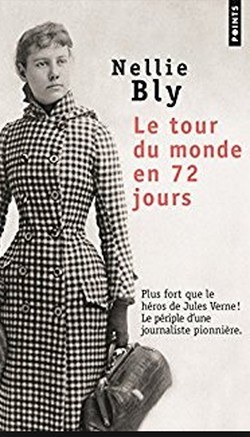 Bly wins, and the risky bet of the New York World newspaper is coupled with the incredible chance of being able to fund, implement and promote a unique historical phenomenon.
Challenge Jules Verne and his Phileas Fogg? This is the ambitious project of Nellie Bly and her newspaper, the New York World. It was as a woman, journalist and soloist that she began this journey in November 1889, carrying a single handbag. A first. And in 72 days, she completed this expedition, which is as much an ode to boldness and determination as a struggle for the emancipation of women.
Elizabeth Jane Cochrane, known as Nellie Bly, is a legendary figure in the American press. An intrepid pioneer of clandestine reporting, born on 5 May 1864 in Pennsylvania and died on 27 January 1922 in New York, she made infiltration her trademark: »An astonishing woman who, in 1890, is the first to completely complete a tour of the world. ».
On the same subject