African guitarists : Those sultans of swing
The guitar, easily transportable, is an instrument that accompanies singing in many popular musical genres. In Africa it is a very popular instrument. Often the singer accompanies himself on his guitar.
The popularity of the instrument, already established in recent centuries, increased with the international diffusion of American music in the 20th century and since then the guitar has been used in modern interpretations of African music from almost every country on the black continent. A brief review of the main African legendary guitarists by country:
In South Africa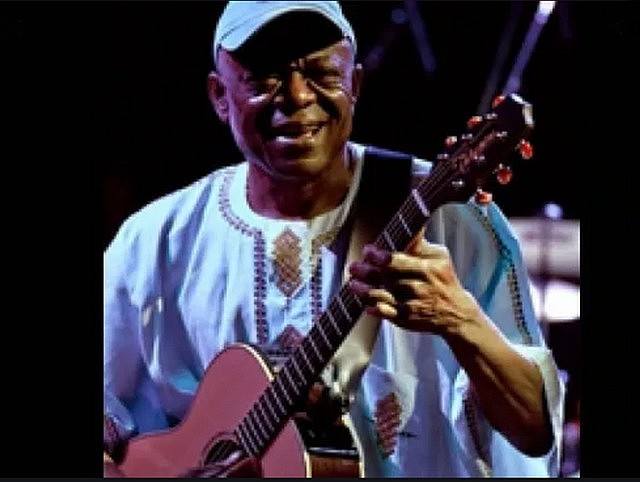 The brilliant Butler Jonathan Butler is a South African singer-songwriter and guitarist born in October 1961 in Cape Town, South Africa.We can associate him with Sam Tshabalala, singer and guitarist of the band The Malopoets, the first black South African musicians to perform at the Market.
Marcellin Ottou, born in 1955, nicknamed « Tchello », is a Cameroonian guitarist, musician and composer, author of more than 300 songs.
Originally from the Central region, he began his career in the 1970s, but it was in the early 1980s that the general public really discovered him. In 2015, he celebrated his 35 years of music with a major concert at the Palais des Congrès in Yaoundé.
Jean Bikoko aka Aladdin is a Cameroonian singer, composer and guitarist. He was born in 1939 in Eséka, Cameroon and died on July 22, 2010 at the age of 71. Jean Bikoko has greatly contributed to the popularization of Assiko around the world. He is truly the pope of Assiko.
Among the many talented Cameroonian guitarists, including the wonderful Vincent Nguini, who recently passed away, we will not forget to greet Etienne M'Bappé, who, although a bassist and not a guitarist, is one of the country's giants.
This favorite of Salif Keita, with whom he performs many concerts around the world, had however started with the guitar in 1978 before turning to the electric bass in 1986 with the success we know.
Oliver Ngoma, known as Noli, born on 23 March 1959 in Mayumba and died on 7 June 2010, is a Gabonese singer and guitarist from Afro-Zouk.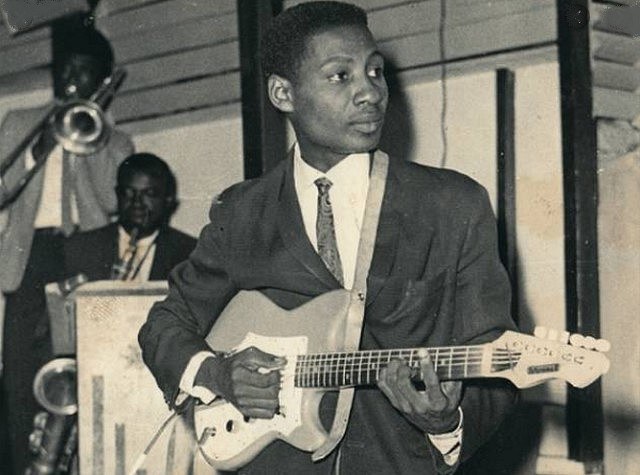 The surprising and talented Ebo Taylor is a legend in Ghana. Born on January 7, 1936 in Cape Coast, Ghana, this Ghanaian musician, arranger and music producer is considered to be the link between Accra, the cradle of highlife, and Lagos, the Mecca of afrobeat.
Stan Plange, another talented guitarist, also born in Accra, has long been associated with Ebo Taylor, notably with the Broadway Band, later renamed Uhurus, at that time (in the early 1960s), considered as a national orchestra in Ghana for spectacular tours with Kwame Nkrumah. And always with the faithful Joe Mensah and Duke Duker (real name Kwerku Baidoo) on trumpet.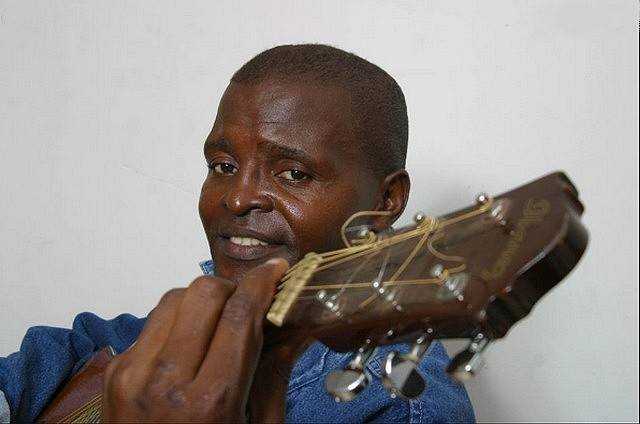 Sékou Diabaté, whose full name is Sékouba Diabaté, is a Guinean guitarist born on July 8, 1944 in Tiro (Faranah region), co-founder of Bembeya Jazz in 1961. He is sometimes called Sékou Bembeya Diabaté, and nicknamed « Diamond fingers  » so as not to confuse him with his namesake singer nicknamed Sékouba Bambino.
Zani Diabaté is the legendary guitarist of the Super Djata Band, one of the most popular bands in Bamako.
He joined the National Ballet in 1963, where he sang, danced and played guitar, kora, balafon and percussion.
In 1969, he created the Super Djata Band. Super Djata's music, based on Bambara rhythms and melodies, is strongly influenced by Zani Diabaté's exceptional guitar.
Guitarist, singer, and songwriter Mama Sisoko has been a leader in the Mali music scene since the late'70s. His musical education began when he started to play the battery of traditional percussion instruments at the age of eight and soon moved to guitar. He was a player in the National Orchestra of Mali for many seasons.
In Nigeria


The immense Keziah Jones, born in Lagos, Nigeria on October 1, 1968, is a singer-composer and guitarist. He mixes blues and funk to create his own style : blufunk.
Or Sir Victor Uwaifo, a Nigerian musician, writer, sculptor and inventor of musical instruments. He was also curator of arts and culture in Edo State under Lucky Igbinedion's government. Sir Victor Uwaifo is famous for his Joromi music. He records under the name of Sir Victor Uwaifo
Let us not forget King Sunny Adé, whose real name is Sunday Francis Adeniyi, born on September 22, 1946 in Ondo, Nigeria, a true Nigerian singer of Jùjú music of Griot Yorubas origin, from the unsilvered royal lineage in the Ondo country.
Mansour Seck is a Senegalese guitarist and son of a toucouleur griot, he was born in 1955 in the north of the country, in Podor like Baaba Maal, to whom he has always been very close, and together they recorded Djam Leeli. He also participates in the group Daande Lenol and signs some solo albums.
We also find Mamadou « Jimi » Mbaye born in 1957 in Dakar who in 1979, befriended Youssou N'Dour and both soon dominated the Senegalese scene by playing Mbalax, this music with a complex and dancing rhythm, so singularly typical of Senegalese youth and undeniably the most popular.
Two years later, the two musicians founded the Super Etoile orchestra with Mbaye Dièye FAYE (percussionist), Papa Oumar NGOM (accompaniment guitar) and Assane THIAM (tama). Their companionship lasted more than 30 years.
In Zimbabwe

Louis Mhlanga (born November 10, 1956) is a guitarist, producer and singer of Zimbabwean origin who is now considered an important African guitarist, capable of mixing Afro, jazz or rock influences in his playing.
On the same subject