Tuscany for a true return to the Sources
You can't say enough about how beautiful this part of Italy is. Since 2004, the hills of this region have been listed as Unesco World Heritage sites. Tuscany is rich in gastronomy, wine, white truffles and many thermal springs. It was in San Casciano dei Bagni that we chose to stop.
Tuscany and the Orcia ValleyTuscany and the Orcia Valley
According to UNESCO, this valley is a perfect example of how a natural landscape was redesigned during the Renaissance period. These places were also magnified by painters belonging to the school of Siena, between the 13th and 15th centuries.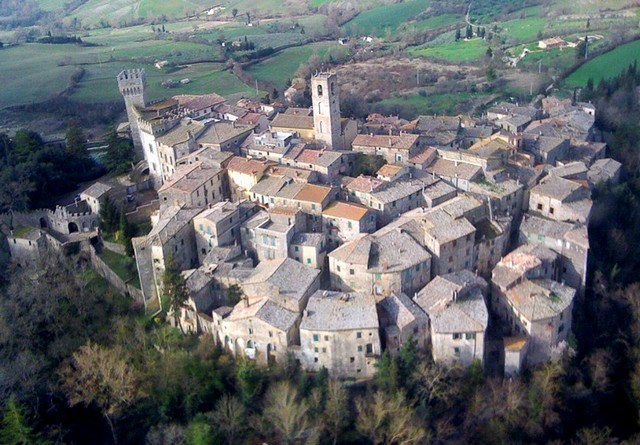 These hills are covered with a rich vegetation of olive trees, cypress, beech and chestnut trees, in the heart of which rise ancient villages of medieval origin, rural houses and fortresses.
Tuscany is rich in thermal springs. There are hyperthermal waters with temperatures ranging from 25°C in Montecatini Terme to 54°C in Bagni di San Filippo.
Tuscany is a wellness destination and famous for the curists.
Hot springs in Tuscany are among the best known since antiquity for the quality and diversity of the water. The medicinal and relaxing properties of hot springs seem to produce healing effects.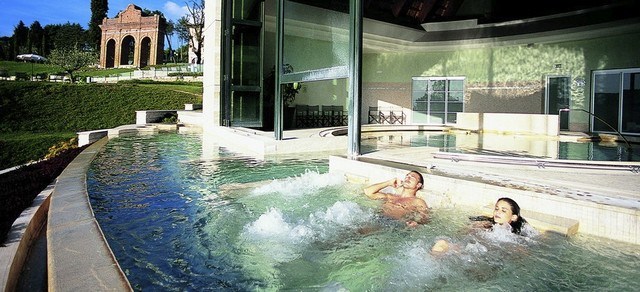 Curists dream of solving their rheumatic, dermatological, respiratory problems… Spas and spa centres have multiplied in the region.
Le Fontervede is surely one of the best spa hotels in Europe
The Fontervede in San Casciano dei Bagni is situated in a magical setting of olive groves and vineyards. The hotel has been admitted to « The Leading Hotels of the World ». He has won numerous awards from major magazines. It has just over 70 rooms and suites. The building was commissioned in 1607 by Grand Duke Ferdinand I of Medici. It is a magnificent residence that pays homage to the Italian Renaissance. Fonteverde has 78 elegant rooms and suites in a unique natural setting.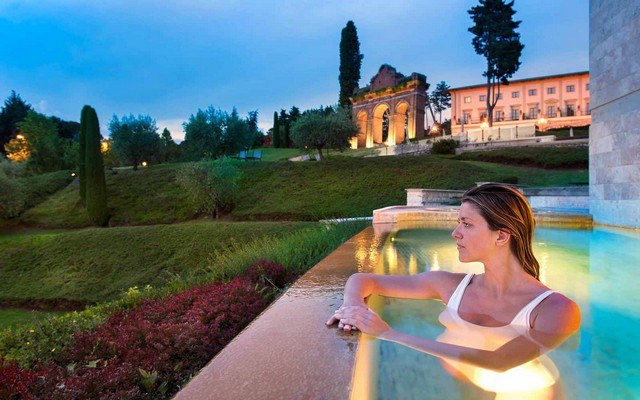 A high-end spa and 8 pools
Although the region is full of activities to discover the surrounding nature, most of the guests stay at the Fontervede.
They enjoy 7 swimming pools and a 5,000 m² spa. This one would offer more than 100 spa treatments, oriental massages, beauty treatments of massage therapy, fitness programs… in short everything to get back in shape !
It should not be forgotten that the Fontervede is built in the middle of thermal springs that would have been discovered by the Etruscans. There's even a special spa pool for pets with arthritis and skin conditions.
Treatments with a profusion
You need to stimulate your blood circulation, the spa allows you to rest on a bed of salt crystals. You will be able to eliminate toxins in a Turkish bath and sauna. Next to it, you will find a fitness centre that offers many treatments: dietetic treatments, thermal treatments, physiotherapy massages, mediterranean and asian treatments and treatments for the beauty of the face.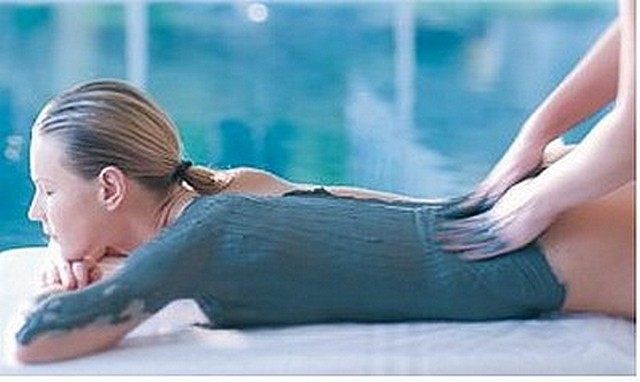 Let yourself be carried by the pools
As mentioned above, there are many pools. You can choose between a therapeutic pool with powerful jets and a vigorous waterfall, which « teases » the body's knots.
Your tensions will melt in the Bioaquam swimming pool while contemplating the landscape. Each pool has different types of « hydro-massage » seats and beds for toning, sculpting and hammering the body. Fonteverde shelters thermal springs rich in sulphur, calcium and magnesium that appear on the surface of the ground at 42 °.
On the same subject