Tourism strategy: why Goldman Sachs wants to buy a French hotel chain
The American banking group Goldman Sachs is interested in buying the B & B hotel chain. Since 2016, the group has evolved from a local strong>strong player to an integrated hotel platform operating at a pan-European level. The hotel business is of interest to investors.
Goldman Sachs puts the price
The American group is in talks to buy the budget hotel chain for around €2 billion. The investment company had acquired B&B in 2016 for just €1 billion. This is a good deal for the private equity firm PAI Partners.
The hotel sector is in full growth
The global hotel sector is showing signs of solid growth. Marriott published an optimistic update of its transactions this month. Accor, the French group of hotels and resorts, also expressed confidence in its outlook for 2019.
B&B, a hotel chain with potential
The investment company PAI has supported the management team in its projects to accelerate its international expansion.
Today, B & B operates a network of 486 budget hotels with a total capacity of 42,832 rooms in 12 countries. The hotel group is also present in Brazil, Austria, Switzerland, Belgium, Portugal and Slovenia. EBITDA of B&B hotels has almost doubled since PAI's acquisition.
B&B's management remains confident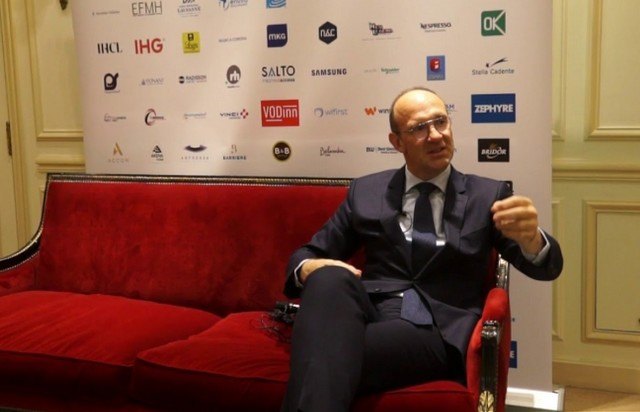 Fabrice Collet (photo opposite), CEO of B & B Hotels, said: » PAI has helped us a lot, allowing us to grow +16% per year over the past three years. They encouraged us to invest to provide the best levels of customer service. In addition, we have taken advantage of their extensive experience in acquisitions and international development to further accelerate in Europe, while launching our development outside the continent…  »
Goldman Sachs buys and sells…
Goldman Sachs acquired a stake in SAMHI Hotels in 2016.
SAMHI Hotels owns 16 hotels operating under major brands, including Courtyard by Marriott, Hyatt Place, Fairfield by Marriott, Four Points by Sheraton and Formula 1. SAMHI Hotels had announced that by mid-2017, the company would have 3,900 rooms under five brands in 12 cities.
However, Goldman Sachs is rarely interested in the hotel sector to stay. Just look at Goldman Sachs' buyouts and sales. In August 2017, the investment company Colony took over Goldman Sachs' hotel portfolio for around €1 billion.
While the investment makes sense for India's attractiveness, the fact that Goldman is investing in hotels is a little surprising, as the bank spent last year selling assets.
Last February, ARC Hospitality purchased $1.8 billion from Whitehall Real Estate Funds' Equity Inns accommodation portfolio (sponsored by Goldman), and Moody National REIT announced its intention to purchase 149 limited service real estate hotels from the bank, Whitehall Street. unit for $1.73 billion.
In the summer, the company (as well as the hedge fund groups GoldenTree Asset Management and Avenue Capital) had engaged Deutsche Bank to advise them on the sale of the British budget hotel chain Travelodge.
But in July, the plan to sell the portfolio of 149 hotels to Moody National failed, apparently due to an increase in financing costs. And in October, Goldman Sachs bought again. A joint venture between Goldman and Highgate Hotels has announced its intention to acquire a portfolio of 10 European hotels of the Koller family based in Austria for an undisclosed amount.
Goldman Sachs remains silent on plans to expand its hotel sector, but the recovery could indicate a renewed confidence in the value of hotel property. Time, of course, will tell.
Serge Fabre
On the same subject