Tourism Alert: The volcano on Bali has erupted again
Mount Agung on the island of Bali erupted again on Sunday, December 30. Thick clouds could be seen at heights of hundreds of metres.
A short eruption that scares tourists
The eruption on Sunday morning, December 30 lasted about three minutes and covered the nearby villages with ashes. Some tourists were frightened because in 2017, the ashes of the volcano had stopped hundreds of thefts. The eruption was recorded over a period of three minutes and eight seconds.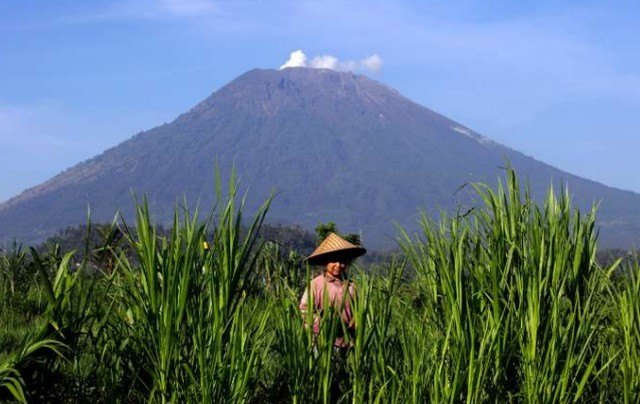 Mount Agung is located east of Bali and 75 kilometers from the famous Kuta beach.
There is therefore no real danger, but holidaymakers keep in mind the recent tsunami caused by the Anak Krakatau volcano.
The recent disaster less than 200 km west of Jakarta
The tsunami of 23 December killed at least 430 people. The number of injured is estimated at 7,202 people. The tsunami triggered by the eruption of the Anak Krakatau volcano and the subsequent underwater landslide also destroyed 2,752 homes and 510 ships. Questions are being raised about the tsunami warning system. But Japanese experts have said that it would have been difficult to predict what happened in the Sunda Strait.
For the moment, there is no problem on Bali
The authorities have confirmed that the flights are operating normally and that no evacuation orders have been issued to neighbouring villages. Mount Agung has been erupting periodically since it resumed activity in 2017. The last major eruption of Mt Agung occurred more than 50 years ago
The last major eruption of Agung, in 1963, killed about 1,600 people.
Indonesia is the most active volcanic region in the world and is located on the Pacific « fire belt » where tectonic plates collide, causing frequent volcanic and seismic activity.
Serge Fabre
On the same subject