The largest online agency offers itself a hotel chain
This is a first for the largest Chinese online agency and surely the second largest online travel agency in the world. AccorHotels, on the other hand, does not own any hotels and has become a manager like other hotel chains.
Created trip « Rezen Hotels Group »
The travel agency recently unveiled its hotel management brand: Rezen Hotels Group. The group's objective is to bring together the best hotels in China's first and second largest cities and help them improve their performance and services through data analysis that the agency already has.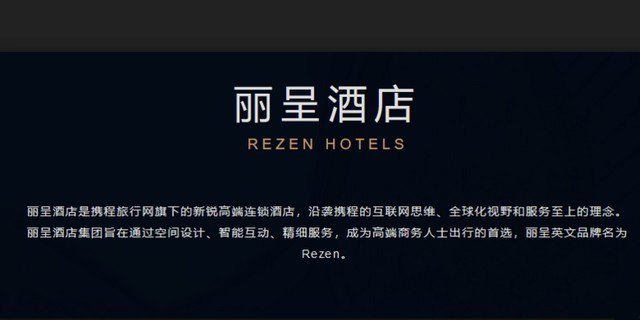 And we don't waste time…
Rezen Hotels has just signed a strategic agreement with Shanghai Jinmao Hotel Management. Both parties will collaborate on hotel branding, data application and conversion rate improvements. Over the next three years, they will launch more than 30 co-branded hotels, representing approximately 6,000 rooms.
Rezen hotels aims to be a top-of-the-range hotel brand
The hotel chain will operate in the high-end segment through three brands: Rezen Hotels, Rezen Huating and Rezen Ruixuan. After three months of recruitment, three Rezen hotels are operational, 15 have been officially signed and are in preparation, and another 50 are under negotiation. It is also announced that more than 50 Rezen franchised hotels will be operational by the end of the year, 250 next year and 500 more the following year.
Ctrip maintains good relations with AccorHotels
The Chinese agency maintains privileged relationships, particularly in Europe. The two companies have signed a partnership agreement. Sébastien Bazin said: « Ctrip, China's leading travel agency with more than 300 million active users each month, is undoubtedly a strategic partner of AccorHotels in the region« .
Ctrip is also in holiday rental and hotel apartment
This year, Ctrip invested $300 million in Tujia.com. Airbnb's main competitor in China. The transaction values Tujia at $1.5 billion. The main difference between Tujia and Airbnb is that Tujia is a real estate developer involved in the financing and construction of permanent accommodation. He currently works with more than 200 government agencies and developers and is involved in the construction of one million housing units.
In this housing context, its competitor would become the Singaporean Ascott (Citadines, Somerset, Quest).
Serge Fabre
On the same subject