Thailand takes water from all sides
From April 13 to 15, Thailand celebrated Songkran. It is one of the most popular festivals for locals and tourists alike. If you are ready to wet your shirt, you should attend one day or another.
What is Songkran ?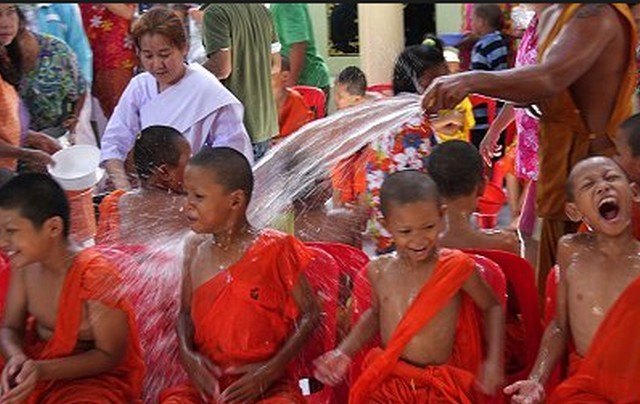 Songkran corresponds to New Year's Day in Thailand. Moreover, other Buddhist countries, like Sri Lanka, celebrate the New Year on the same day, April 13. The term Songkran comes from Sanskrit and literally means astrological passage but also transformation or change .
Each region of Thailand has its rites during Songkran
People in the central region clean their houses when Songkran approaches. All dress in colourful clothes.
After offering food to the monks, people will pray for their ancestors. People donate to the temple for construction or repair.
Other forms of donation exist such as the release of birds and fish. Those who live in the south have three rules for Songkran. It's about working as little as possible and avoiding spending money. Above all, you must not hurt a person or an animal.
Lies should also be avoided. In the northern region, on April 13, you may hear gunshots or firecrackers to repel bad luck. The next day, people prepare food and useful things to offer to the temple monks. They have to make donations and above all, they will bathe the Buddha statue and then pour water on the hands of the elders and ask for their blessings.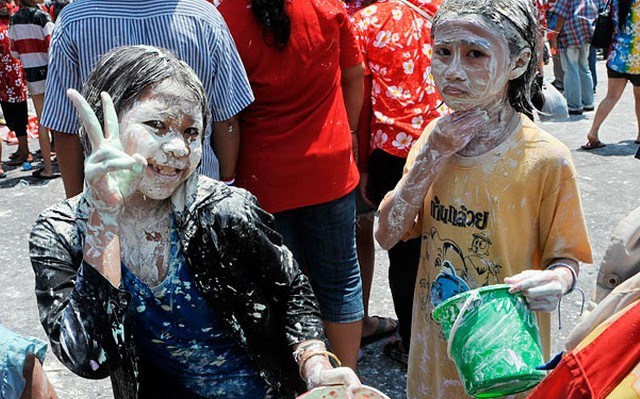 A period to eliminate bad luck
These water jets are intended to chase away the bad luck, misdeeds and misfortunes of the previous year. After going to the temple, people take to the streets and start spraying themselves with water.
Other activities and events are organized, such as beauty contests, cultural shows and parades. Another tradition of Songkran is to prepare a mixture of white chalk to apply on people's faces. It is a symbolic wink to the chalk used by Buddhist monks for blessing.
But where these parties take place ?
While people get wet almost everywhere, there are certain areas in every city where action is more important. These are generally areas that have many bars. People will party, drink and splash water all day.
In Bangkok, you will go to Khao San Road and Silom. The 5 km around Silom are blocked and packed with Thai people ready to have fun. Tents are set up to sell food, beer and, of course, water guns.
The Tourist Office rubs its hands
More than 530,000 tourists are expected in Thailand to enjoy the Songkran festivities. This year the government has decided to add an extra day off and Thais will therefore enjoy five full days of holidays, from 12 to 16 April (13 April is the date that traditionally marks the Thai New Year).
The number of tourists from China alone is expected to increase by 38% to 165,000.
Gays have even more fun during Songkran
The Songkran Festival has taken on special significance for LGBT residents and visitors in recent years. This mid-April weekend is the biggest gay festival in Asia, celebrating its 13th anniversary in 2018 from 13 to 15 April.
Songkran Bangkok 2018 is an event produced by GCircuit consisting of three days of celebration with an opening night called Zodiac .
Partygoers will go to the main event « Empire of the Sun, » the GMM Live House and the Zen Event Hall from 7pm until the morning. The party closes on Sunday with Oasis which takes place at the Royal Orchard Sheraton.
The pool is always well encumbered…
On the same subject