Philippines : Boracay soon to be definitively closed ?
We already mentioned the problems of this very touristy island in the Philippines last February : Today, the Philippine government seems to want to take a decision that will be a landmark in the history of this island.
The island of Boracay, the tourist center of the country
This island has become famous for its white sandy beaches and coral reefs that have made it a traveler's paradise. Bamboo huts and modest half-timbered inns were quickly cleared to accommodate modern hotels. They are almost all located along the white beach of four kilometres on the west coast of the island.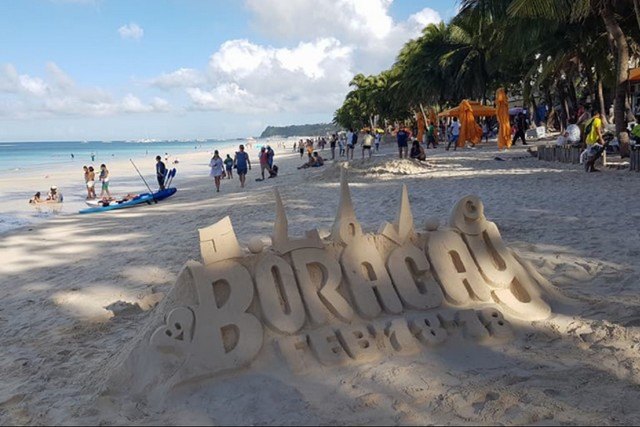 Tourist success has brought jobs and money. However, no one has taken care to build water and garbage disposal systems. As the country's president said, Boracay has become a cesspool.
A island destroyed by the lure of gain
The race for tourist dollars has accelerated development. A shopping centre has been built and houses American chains such as Starbucks, KFC and McDo. Caticlan airport, 15 minutes by ferry, has recently been expanded to accommodate more tourists. Last January, the government curiously signed an agreement with Galaxy Entertainment. It is a casino operator based in Macao. They have to build a casino by the sea. Madness !
The decision to close the island
President Rodrigo Duterte himself said that Boracay has become a cesspool. The island will be closed for 6 months, from the end of April. But is it enough to clean up this idyllic island? There is a need to review wastewater discharges.
These began to destroy the seabed. Hotel owners say the government promised to put in place a system that would treat waste and sewage.
But the local authorities should also take care of the many properties illegally exploited on Bulabog Beach, an area of Boracay, famous for kitesurfing fans. These establishments simply dumped their wastewater in the sea and near the beaches.
The closure of the island will pose some problems
This necessary decision will threaten the livelihoods of thousands of people on the island. Most of the island's approximately 40,000 inhabitants are totally dependent on tourism. The closure of the island, although radical, is not a first. More than ten years ago, the Malaysian island of Sipadan, famous for its diving, was closed to tourists to allow the rehabilitation of its reefs.
Thailand is also considering closing Maya Bay near Koh Phi Phi.
Tourism is a very important economic sector for many countries. It is up to them to take measures to protect the environment. Meanwhile, President Dutertre is diverting the attention of the international community, which has condemned thousands of executions without justice being brought to justice.
On the same subject