Philadelphia, the paradise of sports and outdoor activities
It's no wonder Philadelphia is regularly named one of the 10 most pedestrianized cities in the United States, a city where it's good to be active: a city center easy to explore on foot, miles of bike paths, legendary sports teams, a host of free sports activities, vast green spaces and riverbanks conducive to exercise. But with also crazy themed races and a selection of places sometimes unusual, Philadelphia always keeps a unique and inimitable touch.
A city that has the race in its blood – Unusual strides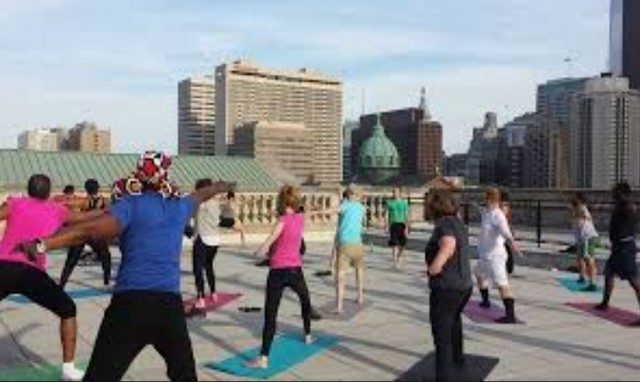 Since Rocky's famous jog, the Philadelphians don't want to stop running. From the Philadelphia Love Run Half-Marathon in March to the Philadelphia Marathon in November, the racing season is filled with ever more original events: a rock'n'roll half-marathon with live music all over the course, a 15km Superhero for those who have always dreamed of wearing a cape, or a Ugly Sweater Run to celebrate the spirit of Christmas with class.
Philly freewheeling – The little queen across the Atlantic
Nothing like a bike to enjoy everything Philadelphia has to offer. No bike? No problem! Indego, the city's bike rental service, has over 100 stations throughout Philadelphia. Several companies, such as Philly Bike Tour, also offer bike routes to discover the city, an ideal way to admire some of the 4000 street art works in the Mural Art Philadelphia or explore the hundreds of hectares of Fairmount Park.
Yoga in all its states – Zen breaks
With rising temperatures, Philadelphia is relocating its yoga classes outdoors. So why not give yourself a little meditation between two visits?
Run along the water on the docks of Race Street Pier, paddle on the Delaware River, art classes at the Philadelphia Museum of the Arts, panoramic courses on the rooftops of the city, or even watered courses in the surrounding vineyards, there's something for everyone in Philly.
Go Philly, go! Sportsmanship
With 7 professional sports teams, Philadelphia will offer all sports fans their adrenaline rush. When visiting the United States, a visit to the stadium to attend an American football or baseball game is a must experience.
Opt for an Eagles game, winner of the 2018 Super Bowl, a Phillies game, the city's baseball team, a 76ers basketball game or, even more original, an ice hockey game by cheering on the Flyers.
Opening of the Museum of Sports in 2019 – Temple of Sport
An all-sports museum will open in Philadelphia in 2019, celebrating sport across the United States with a special focus on Philadelphia.
The 2300m² museum will be located behind the South Philadelphia Sports Complex, where the city's four major teams play, and will feature memorabilia and collectibles, digital and virtual high-tech activities for families and schools, a theatre, a theme restaurant and a collectibles and souvenir shop.
On the same subject