Pablo Escobar in Singapore, a little hard to swallow there!
In a three-page letter to the Ministry of Foreign Affairs of Singapore, the Colombian Embassy expressed its « concern« , after the tribute attributed to the criminal « pire in the history of Colombia« .
We reassure you… Singapore always condemns traffickers to death.
The death penalty is a legal punishment in Singapore. However, since the 2010s, enforcement has become much less common. No one was reportedly executed in 2012 and 2013 and two people were executed in 2014.
Every execution in Singapore is carried out by hanging in Changi prison. There are many other reasons besides drugs, but there are severe sentences. For example: 30 grams of morphine, or cocaine, 500 grams of cannabis. It is therefore strongly advised against transporting drugs!
Come back to our Escobar Pablo Escobar
Colombia would still be the world's largest producer of coca, the raw material for drugs.
Even dead, Pablo Escobar is still very popular in Medellin, where he is considered a saint or hero. The T-shirts with his effigy make the fortune of souvenir dealers.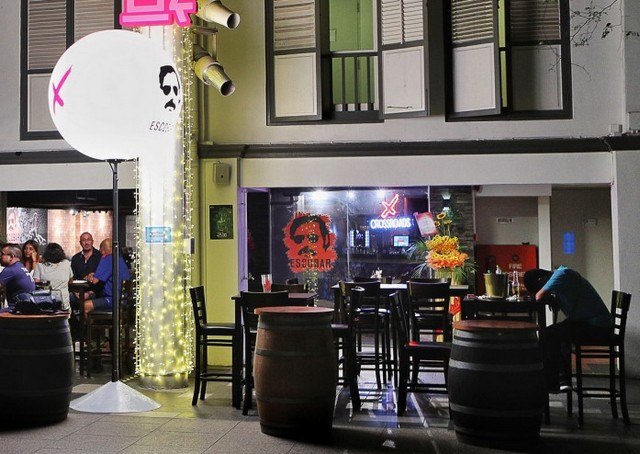 However, Colombia does not like the fact that a restaurant has just taken the name of this illustrious trafficker.
A Pablo Escobar restaurant in Singapore ?
The small restaurant is located near the business district of Singapore. According to local media, customers are not aware of the controversy.
Several bouquets of flowers are in front of the restaurant. They are not nostalgic for criminals, but it is a custom when a store or restaurant opens its doors. The café-restaurant added a sticker to Escobar's image.
The owner is still amazed by the magnitude of the messages.
The owner of the restaurant would have indicated that he had decided on the name of his restaurant simply… because he had the word « bar » in the name. We remain puzzled!
Bet he's gonna have to change the name of his restaurant. It must be acknowledged that the former head of the Medellin cartel would have killed thousands of people in his country and elsewhere.
Serge Fabre
On the same subject