NH Hotel to open the first NHOW hotel in the United Kingdom in the summer of 2019
nhow London, a 190-room hotel under the NH Hotel Group design brand, will open in London in the summer of 2019.
Located between the City, Islington and Shoreditch, in the environment of the 250 City Road urban development project designed by Sir Norman Foster's prestigious architectural firm, Foster + Partners, the four-star hotel will be the second largest NH Hotel Group establishment in the United Kingdom.
Inspired by the « London Reloaded » concept, the design will combine traditional British icons with unconventional contemporary elements.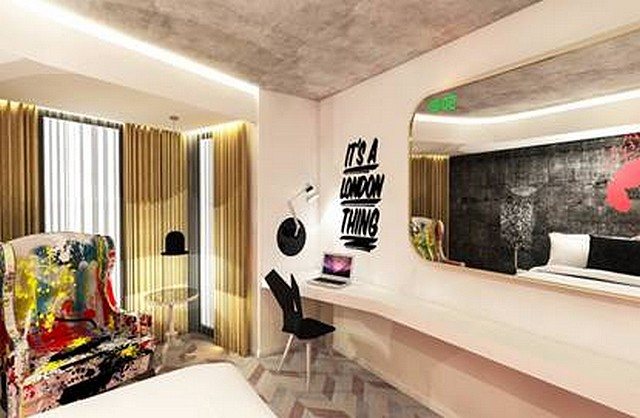 Architect James Soane, co-director of the London-based interior design firm Project Orange, and his team, sign the interior design for nhow London.
The eight-storey hotel will have 190 rooms, a restaurant, a bar, a sports hall, spaces dedicated to networking and several meeting rooms.
One of the most remarkable elements of the hall will be the sculpture of Big Ben in the shape of a rocket. Eclectic and colourful furniture on pixelated carpets will invite guests to relax, including an LED fireplace that will provide a warm and relaxed atmosphere.
The restaurant – The Bell – will be an avant-garde version of the traditional British pub, with green leather seats and tables featuring Cockney rhymes, London's popular dialect.
The refined lighting of this space will be produced by huge golden bells, in memory of the city's famous church bells. In contrast, the central column will show a pixelized LED display that will generate images in perpetual motion.
On the same subject