In prison for a disrespectful selfie
There is not a week where you can read the delirium of a tourist or a traveller. They are often found in airplanes with one glass too many. But now it's all over the world. Authorities in some countries are cracking down…
The Machu Picchu, a World Heritage site
Machu Picchu, whose name means « Old Mountain » in Quechua, is a sacred place. It is the most representative work of Inca architecture. The site is a UNESCO World Heritage Site. For several centuries, the Spanish conquistadores based in Cuzco ignored the existence of this site. It was not until 1911 that Machu Picchu was rediscovered by the American archaeologist Hiram Bingham.
Machu Picchu is very famous
The 15th century citadel perched at an altitude of 2,500 metres is one of the most visited sites in Latin America with two thousand two hundred tourists a day.
The Peruvian authorities are obliged to reduce the number of visitors. Built on top of a mountain, it blends into the surrounding thick foliage. In June 2014, Peru's Ministry of Culture reiterated that nudity was prohibited.
Three young tourists were banned
Three European tourists were banished from the citadel of Machu Picchu in Peru after taking pictures of themselves with their pants down and their buttocks down. This type of situation is unfortunately common all over the world. For these young people, it is a matter of exhibiting « their exploit » on social networks. They were lucky they didn't pay a fine!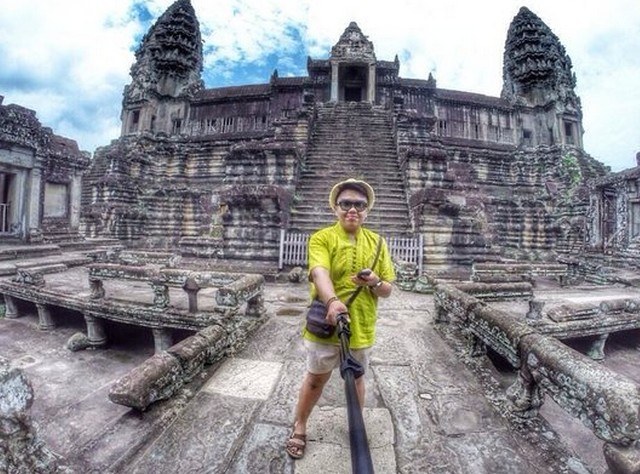 The Angkor complex in Cambodia is also very visited
Angkor is one of the main archaeological sites in Southeast Asia.
Stretching over some 400 km2 covered in part by forest, the Angkor archaeological park conceals the admirable remains of the various capitals of the Khmer Empire which radiated between the 9th and 15th centuries. Angkor Wat is the largest of the temples of the Angkor monumental complex in Cambodia and the most visited.
Respectful tourists are punished
About two years ago, three French tourists and two American sisters were expelled from Cambodia for photographing themselves naked in one of the temples of the Angkor complex. They had been sentenced to six months suspended prison and banned from staying in Cambodia for four years.
Recently, 10 tourists were arrested in Siem Reap (near the ruins of Angkor) for engaging in » pornographic songs and dances« . They could go to jail.
The authorities no longer tolerate these acts

The Cambodian authorities have tried in recent years to moralize the behaviour of tourists near the Angkor temples, cracking down on those who post suggestive images, for example. In 2016, those in charge of the site had also announced their intention not to tolerate any more any more any clothing.
Tourists really need to be more respectful of the places visited. And above all, that they are informed of the risks involved.
On the same subject