China now has its own Hollywood
China has its Hollywood: a « City of Cinema » as big as 500 football fields was inaugurated last Saturday, with the ambition to attract film shoots on this site presented as »the biggest investment in world history » of the sector.
Fifty billion yuan (6.5 billion euros) have been spent to build this 376 hectare complex located in the seaside town of Qingdao (east), according to the Chinese private conglomerate Wanda, initiator of the project.
Trente studios, of which »the largest in the world« , measuring 10,000 square metres–have already been built. Ten more will follow in the coming years, promises the group specialized in real estate, cinema and sport.
In addition to filming and post-production locations, this pharaonic « Cité orientale du cinéma » also includes a theatre, a school, a hospital, luxury hotels and a yacht club — inspired by the one in Monaco.
The general public is also targeted, with a giant shopping center of 360,000 square meters. It includes shops, cafes, restaurants, an ice rink, an amusement park, a water park and » Asia's largest cinema« .
« It's the biggest investment in film and television in world history, » says Wanda.
The group, led by businessman Wang Jianlin (4th fortune in China according to Bloomberg) is not a film novice. It produces films, acquired the American dark cinema chain AMC in 2012 and acquired the Hollywood studio Legendary (Jurassic World, Interstellar, Godzilla) in 2016.
Inaugurated without DiCaprio
« This site will help Chinese cinema in its development, and promote its march towards the international, » Mr. Wang enthused Saturday. Only a small number of Chinese works have so far managed to attract a foreign audience.
Other some Chinese films, two Sino-American blockbusters have already been shot in this City of Cinema in Qingdao : « The Great Wall » (2016, with Matt Damon) and « Pacific Rim Uprising » (2018).
The work began with great pomp and ceremony in 2013 in the presence of Nicole Kidman, Leonardo DiCaprio and John Travolta.
But no foreign star was present Saturday at the opening ceremony, deliberately minimalist. A sign that Wanda is now being cautious.
«  Originally, these studios wanted to attract big Hollywood productions. But the Americans have since understood that it is complicated to shoot in China: difficulties of communication, different working methods and length of the process to obtain the authorizations to film« , notes Natacha Devillers, French producer based in China for about ten years.
« Since the relative failure of « The Great Wall », the number of co-productions planned here has decreased considerably, » she says. This blockbuster by Chinese director Zhang Yimou had proved to be profitable, but had been severely criticized by the audience.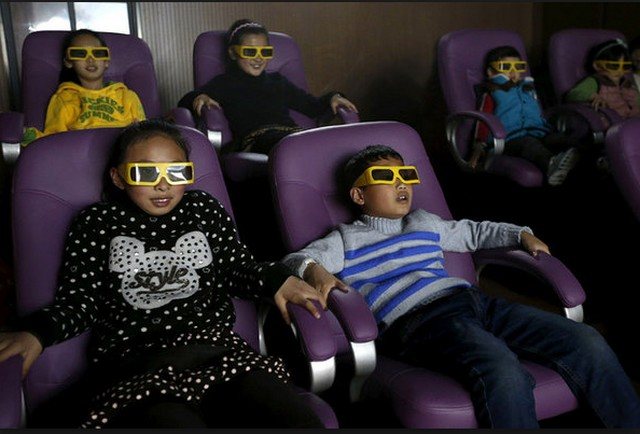 Some setbacks nevertheless
Despite everything, the Wanda group intends to make this Cité du cinéma » the most attractive production base in the world« , ahead of Hollywood.
« The opening of this site is undeniably positive for the sector. This is an additional option for shootings, » says Wang Luna, CEO of Chinese production company Juben Pictures. She will shoot here in 2019 « Le Dernier Loup 2 », the sequel to a Franco-Chinese adventure film directed by Jean-Jacques Annaud.
« After that, the Chinese film industry is so huge that (these new infrastructures) will not have a huge impact. Not to mention that Wanda is currently experiencing some setbacks, » notes Ms. Wang.
The group is heavily in debt after a frenzy of purchases abroad. Since 2017, he has been forced by the authorities to sell many hotels or his 20% share in the Spanish football club Atletico Madrid.
As for the studios opened on Saturday, he sold them… to a rival in the real estate sector, now content to manage them.
« China always sees bigger, bigger than everyone else, » says producer Natacha Devillers. « The challenge now will be to attract enough films per year to be able to run the operation« .
On the same subject