A night under the stars of Colorado
From yurt to night in the cliffs, through luxury camping, families and adventurers can marvel at spending a starry night in Colorado.
Famous for its historic ranches and hotels, the highest state in the United States, welcomes nature lovers, thrill seekers and those seeking to immerse themselves in the heart of Colorado's most beautiful landscapes.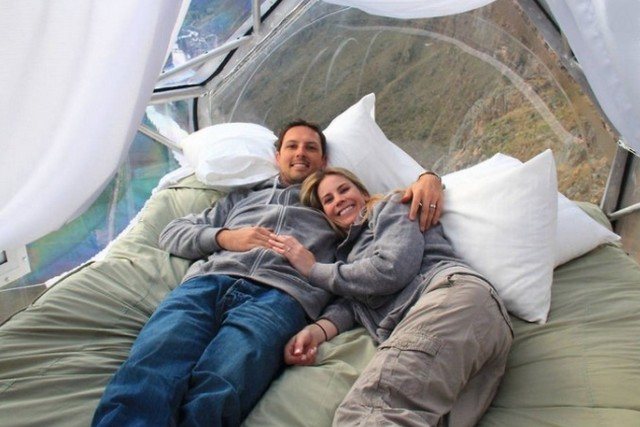 One night in a wall tent hung on the cliffs at 30 meters above the ground, this is the experience possible in Colorado.
Between May and September, the most adventurous adventurers can try their hand at Estes Park, at the entrance to Rocky Mountain National Park with the Kent Mountain Adventure Center.
Initiation to climbing techniques, star observation, night on the cliff, breakfast and abseiling are all part of this unusual experience. The experience is reserved for a maximum of 2 people and is supervised by a professional. Price starting from 800$ per person.
For an adventure in the heart of nature, isolated in the San Juan mountains, two of the yurts of the Hinsdale Haute Route, are open all year round and accessible by foot, mountain bike, horseback or 4 X 4.
Accommodating up to 8 people, 20 metres in diameter and equipped with table, gas oven and wood stove, the yurts without running water, allow a retreat in full immersion in the mountainous landscapes of Colorado. Price starting from $20 per person.
Hidden behind the Mosquito mountain range at an altitude of 3,657 metres, the Emma yurts and the Marceline are designed for 5 people.
Not accessible by road (except for 4X4 in summer), only people in good physical conditions will be able to venture there. All the kitchen equipment is provided, guests can prepare themselves to eat with their own provisions. Rate starting from 85$ per night.
On the same subject