A new Hilton hotel in Tangier
This new Hilton hotel has the charm of a resurrected Palace, the horizon and light that inspired Joseph Kessel but it adds a new chapter to the history of Tangier. 100% lifestyle, 100% wellness and feet in the water.
Inaugurated on April 15, 2019, the first contemporary Tangier Resort is renewing the destination on its own. Located between the white citadel of the largest city in northern Morocco and the sublime village of Asilah, it offers itself the luxury of a wide panoramic view of the Atlantic Ocean.
At only about ten kilometers from Tangier International Airport, it is here, on the edge of an infinite beach and backed by a 25 hectare forest, that the latest project of the Qatari Diar and Hilton groups reveals its northern vision of Morocco.
Between heritage, luxury, well-being, golf and wide open spaces, the Hilton Tangier Al Houara Resort & Spa suggests the first, the desire for a contemporary Moroccan experience: halfway between culture and fitness.
A contemporary resort in a natural setting
Located west of the most beautiful bay of the Strait of Gibraltar, this new flagship of the Hilton chain has set out to shape an oasis of local charm, a living space of comfort and amenities for which it no longer has to demonstrate its strength of expertise.
The Hilton Tangier Al Houara Resort & Spa is: 304 rooms, 3 restaurants, 2 bars, 3 swimming pools, a spa of more than 850 m2 and terraces set up around an 18-hole golf course and a protected forest. All this facing the beach which stretches over 5 kilometres….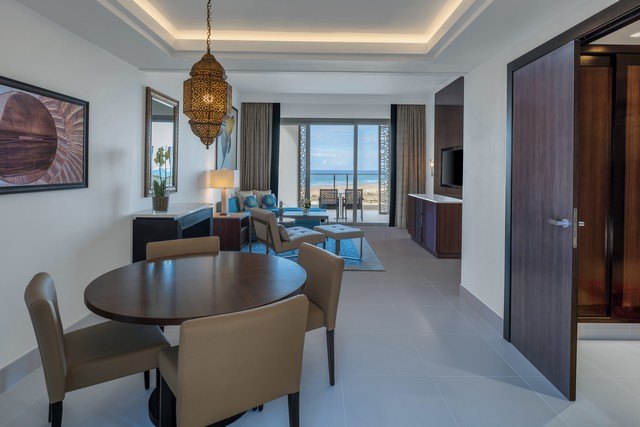 Made to measure accommodation in rooms, suites or apartments

The ideal format for every need: among the 304 keys, all facing the ocean, there are 236 rooms of 45 m2 each with a balcony or terrace overlooking the Atlantic, 18 suites of 75 to 80 m2 each suitable for families of up to 4 people and 50 apartments equipped with a kitchen, and one or two bedrooms.
All rooms and apartments without exception benefit from digital check-in, connected room service, wifi and are equipped with marble hand rooms with bathtub.
Three restaurants, two bars

Known to be one of the best and most delicate in the world, Moroccan cuisine has a prominent place in this new window on the destination offered by the Hilton Tangier Al Houara Resort & Spa. Executive Chef Mohammed Zai, renowned for his passion for gastronomy and the promotion of local products, describes his heritage and what he is inspired by local cuisine today.
On the same subject