In Las Vegas, will tourism go up in smoke ?
Las Vegas didn't need any extra publicity to attract tourists. The state of Nevada, whose motto is All for our country , is keeping its promises. In addition to slot machines, Las Vegas tourists will be able to get high.
Fifth state to legalize marijuana sales
After Colorado, Washington, Oregon and Alaska, Nevada is the fifth state to legalize the sale of marijuana. Las Vegas, which is located in this state, will fully benefit from this novelty.
More tourists expected in Las Vegas
More than 40 million tourists visit Sin City annually, and the legalization of recreational marijuana could attract many more. But in the United States, we first talk about » pognon « .
Current estimates suggest that the state could collect over $60 million in taxes from the sale of cannabis.
A sale that still has its limits
Adults 21 years of age and older are allowed to purchase up to 28 grams of cannabis per day or 3.5 grams of concentrate. It is of course forbidden to sell to young people under 21 years of age. It is also forbidden to smoke cannabis on the street or to drive after enjoying a joint.
You won't be able to walk the Las Vegas Strip or any gambling establishment in the state. If you get caught, the fine is $600…
Tourists should account for about two-thirds of marijuana sales
Colorado recently commissioned a study that showed that 49% of tourists were influenced by marijuana laws to come to the state. California, Maine and Massachusetts should follow these 5 states in selling recreational marijuana.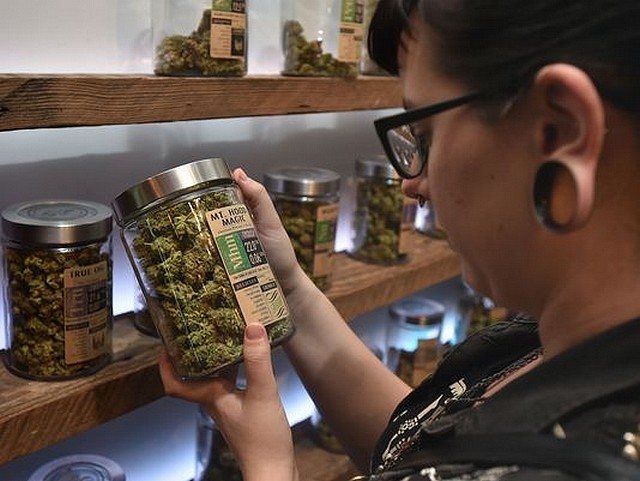 Very high attendance for the first days
Thousands of marijuana users were waiting for the opening of licensed medical stores. Some consumers reported seeing 3-hour tails before they could buy the 28 grams allowed.
A little more tax revenue…
The first four days of selling recreational marijuana generated $3 million in sales and approximately $500,000 in tax revenue. The tax rate on sales is 33-38%, depending on local regulations, including all national and local taxes. This should make some countries think, including France. The Netherlands has already taken the plunge.
No one knows if the president has made his provisions…
For some travelers, this case will be another reason to visit the United States. On the other hand, no media has yet allowed itself to suggest that the American president… has made his provisions.
According to a major American media outlet, an elected Democrat in California would still have indicated that we should consider proposing a law requiring a psychiatrist in the White House.
In addition, three prominent psychiatry professors provided some evidence of his mental instability including « grandiloquence, impulsivity, hypersensitivity to confrontation or criticism, and an apparent inability to distinguish between fantasy and reality.
If specialists say so…!
On the same subject