When travel and gastronomy go hand in hand
It was little known in France and it is a pity. Anthony Bourdain, the affable American chef and author had shared his voracious curiosity for the world's food and cultures with millions of people through his popular television shows. He died in Alsace on June 8, at the age of 61.
Anthony Bourdain combined perfectly food and travel
Beyond highlighting exotic foods, it offered new perspectives on travel. Instead of taking a trip and looking at the destination through the eyes of an American, Anthony Bourdain really wanted to immerse himself in the local culture. He was ready for dinner like the locals, even if the meal was not appetizing.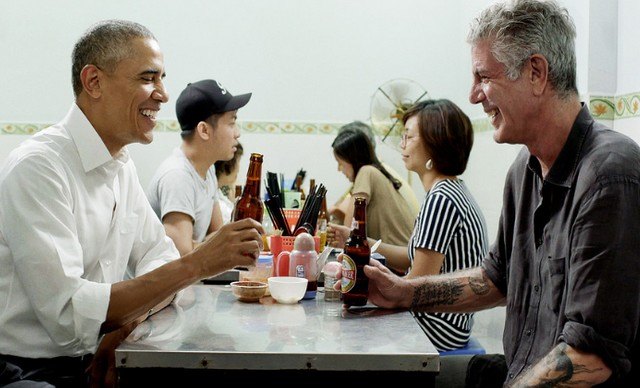 A dinner with Obama in Vietnam
Former President Obama was on a trip to Asia in 2016. He didn't hesitate to share a dinner at a small restaurant in Hanoi. They were both sitting on low plastic stools. They tasted cheap noodles and drank the famous cold Hanoi beer.
As Barack Obama said: »he taught us food, but above all, his ability to bring us together, to make us a little less afraid of the unknown, we will miss him« .
It will have been very present in Asia
The chef was known to be a big fan of the Singapore food scene. He had visited places like Maxwell Food Center and Hill Street Fried Kway Teow in Bedok (very popular canteens). He said « Singapore is perhaps the most gourmet place on Earth, with the most enthusiastic dishes, the most varied and abundant dishes… available at low prices.
Eating and drinking without fear abroad
Anthony Bourdain promoted high food and street food in his travels, encouraging viewers to « eat and drink with people without fear or prejudice.
He left while filming in France
He allegedly committed suicide while filming an episode of his food and travel programme « Parts Unknown » in France.
The authorities have declared that Anthony Bourdain died in a luxury hotel, the Chambard, in the village of Kaysersberg in the Haut-Rhin in Alsace.
His sudden death has attracted tributes from around the world, from President Trump to former U.S. presidents to renowned leaders and ordinary people who have joined him by proxy on his travels around the world. He has managed to evoke food and travel wonderfully.
On the same subject