Wagyu, a guaranteed beef effect
In Japanese « wa » means Japan and « gyu » means beef and therefore Wagyu means beef from a breed of beef born and raised in Japan. Its export from Japan has only been authorised for five years and its consumption remains fairly confidential in France. But in 2019 the Wagyu targets the land of gastronomy and twenty French chefs will honour it with their menus during « Japanese Wagyu Week in France » from March 1 to 7.
In Japan we love cows and we prove it. For 100 years, breeders have selected and pampered a native breed called Kuroge Washu (Black Japanese) which produces 97% of Wagyu. Livestock farms are small units with a maximum of 34 births per year. At the age of 7 months fattening begins, the oxen are fed in the meadow and receive a supplement of rice straw.
Japanese consider stress to be the number one enemy of quality meat and Wagyu cattle enjoy a calm environment, daily care and attention from their farmers.
Of course, their state of health is the subject of all attention, but we are also concerned about their « mental » well-being. So if an ox is in conflict with one of his congeners, they will not be allowed to cohabit. Japan is the land of zen-attitude, even for oxen!
To avoid imitations, a label was created in 2007 that guarantees the 100% Japanese origin of this delicate meat and flawless traceability from the birth of the calves to the consumer's plate.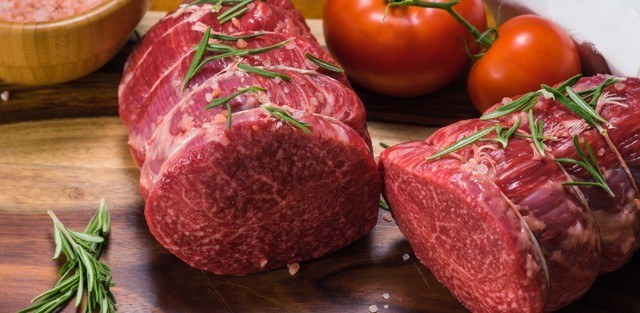 There are five qualities of Wagyu determined at slaughter according to 4 criteria: marbling, colour and brilliance of the meat, firmness and texture and finally colour and brilliance of the marbling. The scores range from 1 to 5, with 5 being the best quality.
The exceptional tenderness and flavour of Wagyu comes from marbling, the intramuscular fat called sashi. This marbled contains 50% oleic acid (the same as in olive oil!) and is excellent for cardiovascular health.
Cooked at 80°, no more, Wagyu marbled also has a unique flavour, the famous unami with which Western palates are still relatively unfamiliar. All these qualities have earned the Wagyu beef a UNESCO World Heritage Site.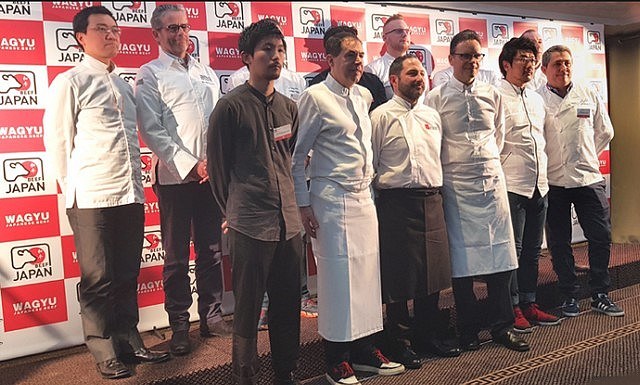 For « Japanese Wagyu Week in France » twenty of our best chefs have developed recipes that combine Wagyu with local French products and their incomparable know-how.
From March 1 to 7, these innovative dishes will be served in their restaurants and will allow a greater number of curious people to discover this meat which until today in France remained the prerogative of a few gourmet restaurants.
Thus Stéphane Laruelle chef at the « Chiberta » just a stone's throw from the Champs-Elysées has created a Wagyu beef tartare with Ronce oysters N°2 on a fine cucumber jelly. Jean-Yves Guého, head of « L'Atlantide 1874 » in Nantes, will propose a « Tendre de Tranche Wagyu façon Strogonov et sa brandade d'eguille fumée de Loire ». Patrick Bertron of Relais Bernard Loiseau in Seaulieu will serve « Beef Wagyu with iodized juice and Puntarelles, Bouillon and thin slices of smoked Wagyu ». Philippe Labbé chef at the « Tour d'Argent » combines Wagyu entrecote with black garlic, anchovies and truffles…
Obviously this Wagyu inspired them and land-sea associations are particularly highlighted. But will the unami be unanimously accepted?
List of leaders participating in the Wagyu week: (in alphabetical order)
Patrick BERTRON, Le Relais Bernard Loiseau
Cédric BURTIN, L'Amaryllis
Joël CESARI, La Chaumière
Yoann CONTE, Yoann Conte
Sébastien GROSPELLIER, La Table de Chaintré
Jean-Yves GUEHO, Atlantis 1874 – Maison Guého
Ryohei KAWASAKI, Ken Kawasaki
Philippe LABBE, La Tour d'Argent
Stéphane LARUELLE, Le Chiberta
Laurent LEMAL, The Cooperative
François MOUREAUX, Azimut
Shinsuke NAKATANI, Nakatani
Jérôme NUTILE, Jérôme Nutile – Le Mas de Boudan
Gaël ORIEUX, Auguste
Joël PHILIPPS, Le Cerf
Christophe QUEANT, Le Carmin
Stephan SCHNEIDER, Auberge St-Walfrid
Ryuji TESHIMA, Pages
Davy TISSOT, Seasons
And Bon Appétit!
Annick Dournes & Frédéric de Poligny
On the same subject