Spectacular Stunning Aerial Shots from 32,000 Feet
Transatlantic airline, Icelandair welcomes its first new Boeing 737 MAX 8 with a unique celebratory flight 'Iceland By Air' that took a special route over some of Iceland's most stunning landscapes and sights.
All Icelandair planes are named after Icelandic volcanoes or areas of Iceland's spectacular natural beauty. The new Boeing 737 MAX 8, named Jökulsárlon, took a bespoke flight plan which allowed passengers to catch a glimpse of its namesake, Jökulsárlon Lagoon as well as aerial sights of the black sand beach at Reynisfjara and the Vatnajökull glacier.
Hosted by top Icelandic landscape photographer, Páll Jökull, guests on board the celebratory flight were provided with an in-air tutorial to learn how to take the best aerial photographs from the newly designed windows for better viewing. Páll's photography tips helped passengers to get the perfect shot: using the aircraft's new LED lighting system to light the photo and the better-designed cabin windows to help frame it. 'Capturing a good photo from the Boeing 737 MAX is a combination of the light available and the composition of what you see out there, landscape/sky, and will be made easier with the new redesigned windows,' advises Jökull.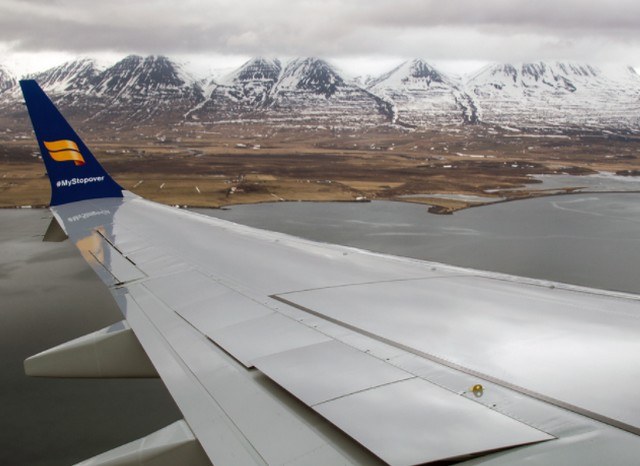 Passengers toasted the new plane with Icelandair's special-edition 737 Transatlantic Icelandair Pale Ale, available onboard and in the Icelandair Saga Lounge at Keflavik International airport for a limited time. The beer contains an abv of 7.37 % and is made with hops from the Pacific Northwest (where Boeing planes are made) and European malts as homage to the journey these planes will make.
Icelandair's new Boeing 737 MAX 8 provides an improved customer flying experience with a re-designed cabin interior and customisable LED lighting. Incorporating years of customer research into the design, the enhanced cabin features a Boeing Sky Interior, fitted with modern-sculptured walls that cleverly lead your eye to the window. Additional thoughtful touches have been added, with larger overhead cabins to give passengers extra space to store their carry-on luggage more easily.
Icelandair's newest plane also sets new standards in fuel-efficiency and performance with up to 20 percent more fuel-efficiency* and increasing its range by up to 3,515 nautical miles. The 737 MAX incorporates the latest quiet engine technology to reduce the noise footprint of the airplane by up to 40 percent.
The carrier will add a total of 16 new Boeing 737 MAX 8 and Boeing 737 MAX 9 aircraft to its fleet over the next four years, enabling the airline to further bolster its' growing network.
The new plane will complement Icelandair's existing fleet of 757 and 767, all perfectly suited for mid-range flights and the airline's operation of transatlantic and European routes.
On the same subject