Savoy Palace opened its doors in Funchal on Madeira Island
This luxurious 5-star member of the Leading Hotels of the World opened its doors on July 1, 2019 in the heart of Madeira's capital, just 20 km from Cristiano Ronaldo International Airport and a few minutes from the city's main tourist attractions.
Savoy Palace redefines luxury hotels on Madeira Island. This 352-room hotel and suites offers superb views of the ocean and surrounding gardens. The hotel has 6 swimming pools, 8 restaurants and bars, 8 event rooms that can accommodate up to 1400 people and one of the largest spas in Europe with 11 treatment rooms and a fitness centre.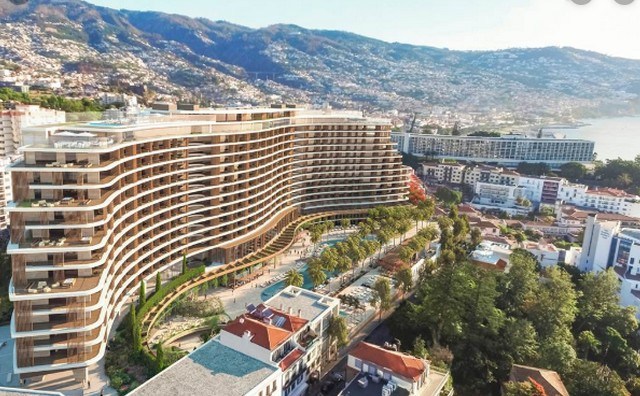 An interior design by Nini Andrade Silva and RH+ Arquitectos
Nini Andrade Silva is a world-renowned interior designer. Originally from Madeira, she has worked on numerous international projects in Dubai, Malaysia, Singapore, Colombia and Portugal.
The interior design is a fascinating blend of tradition and modernity and a true tribute to the island's natural beauty. Inspired by the Belle Époque, the Savoy Palace integrates the island's cultural resources into its design, such as the « levadas », Madeira's own irrigation canals, embroidery, basketry and even the famous Madeira wines.
The main entrance sets the tone with an impressive chandelier combined with sets of mirrors that give an impression of space and grandeur.
The common areas of the hotel feature bright colours, curves suggesting plants, animals and feminine shapes, as well as Art Nouveau ornaments.
The rooms and suites
The hotel's rooms and suites are bright and feature generous living spaces with spectacular views of the Atlantic Ocean. The noble materials used also recall the island's natural elements such as the Lauriferous forest, cork and wood.
The 352 rooms and suites spread over 17 floors have a surface area of 40 to 260 m², characterized by an exclusive and refined décor, where quality and detail are highlighted. Savoy Palace offers different categories of rooms and suites, including two presidential suites and 14 suites with their own private pools, located on the upper floors.
On the same subject