Sandals Royal Barbados acquires 50 new ultra luxurious suites
The Sandals Resorts International hotel group continues to expand in the following areas Caribbean with the opening of 50 new suites at Sandals Royal Barbados.
With With this expansion, the Sandals Royal Barbados becomes the most luxurious address of Rihanna Island. This is the third major extension of the facility, since its opening in December 2017, which reflects the group's commitment towards the development and growth of excellence in the All-inclusive.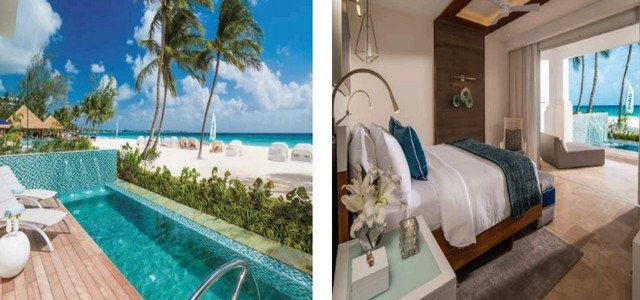 Sandals Royal Barbados is the group's second establishment in Barbados.
Located on the south coast, along Dover Beach, one of the most beautiful beaches on the island, it now offers 252 suites.
Each suite has a spa bath for two, located inside or on the balcony. And so that holidays go hand in hand with relaxation a personal butler takes care of the guests.
Sandals Royal Barbados has the largest overflow pool in the world.
Caribbean (more than 620m2), located in rooftop, and a jacuzzi with panoramic view on the ocean.
On the wellness side, the 1400m2 Red Lane Spa offers in the heart of a tropical garden a wide range of body and face treatments using among others the virtues of tropical flowers and fruits. With six restaurants, guests are won over not only by the unique gastronomic experience in the Caribbean (5-Star Global Gourmet), but they can also discover the menu of cocktails of four bars, one of which is on the roof.
Thanks to the Luxury Included® concept, everything is included in the stay, from catering to drinks, including the whole water and land sports and transfer from the airport by Rolls Royce to suites of higher category.
On the same subject