Famous actor who continues to be seen in movies and despite his 73 years, Robert de Niro also participates in the development of the hotel chain Nobu, created by chef Nobu Matsuhisa (whom everyone knows as Nobu), who travels the world to visit his many establishments, but also to inaugurate new ones.
The Nobu chain is one of the most innovative
« Nobu Hospitality » is considered one of the 25 most innovative luxury brands by Robb Report (a renowned English-language magazine). The hotel group was founded by Nobu Matsuhisa, Robert De Niro and Meir Teper. There are Nobu establishments in the United States but also in London, Barcelona, Ibiza, Marbella. They are mainly boutique hotels.
Who is Nobu Matsuhisa ?
Nobu is a great chef who can even be found at the Royal Monceau in Paris. He has a unique style, mixing with originality the codes of Japanese gastronomy with the exoticism of flavours and techniques inspired by his many travels.
After 10 years spent between Peru, Argentina and Alaska, Nobu settled in Los Angeles and opened his own restaurant « Matsuhisa » in Beverly Hills in 1987. His restaurant then became the landmark of Hollywood stars, offering him world fame.
Building on this success, Nobu continued its expansion and gradually established itself on the five continents. Today it has 39 restaurants.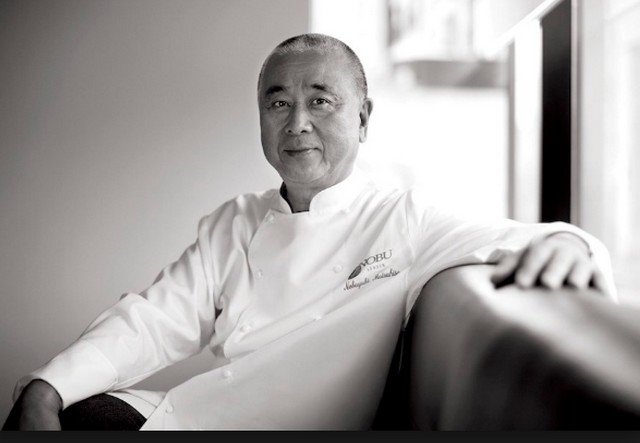 Robert De Niro first met Nobu Matsuhisa in Los Angles in 1988. The Japanese chef served him miso black cod. They became inseparable friends and founded the Nobu hotels.
A new hotel announced in Israel
Nobu Hotels has announced its expansion this time into Israel. This will be the 17th hotel on the chain. Nobu in Hebrew means « spring hill ».
The establishment will be located in Tel Aviv, a lively and popular capital.
The hotel will offer 38 rooms, a large garden, a fitness center, an outdoor pool, a roof for events, and of course, a Nobu restaurant.
This hotel is located in a lively neighborhood of Tel Aviv. It is located at 55 Rothschild Boulevard and will have another entrance at 66 Ehad Aaam Street.