Qatar Airways opens a new route to Langkawi in Malaysia
His Excellency Mr. Akbar Al Baker, Managing Director of Qatar Airways Group, held a press conference at the Four Seasons Hotel in Kuala Lumpur, Malaysia on Tuesday, August 27 to announce the launch of new flights to Langkawi, Malaysia from Doha.
His Excellency Mr. Fahad Mohammed Kafoud, Ambassador of Qatar to Malaysia, Mr. Dato' Seri Mukhriz Tun Mahathir, Chief Minister of the State of Kedah, as well as Dr. Hezri Bin Adnan, Director General of the Langkawi Development Authority (LADA), were present at the announcement.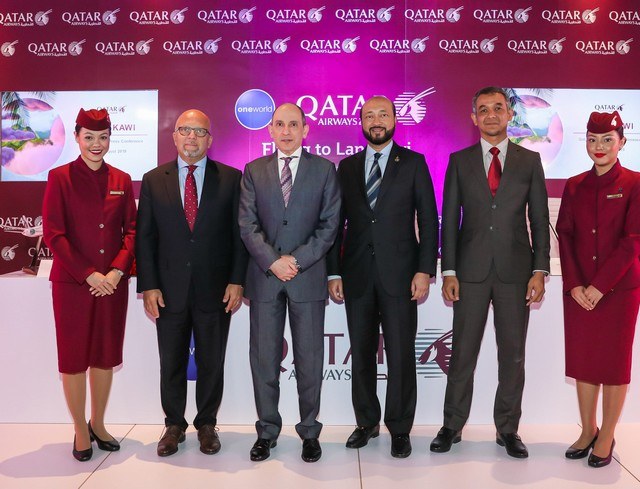 This new route, which will begin on 15 October 2019, is part of the company's development strategy in Southeast Asia. It is also the third destination served by Qatar Airways in Malaysia after Kuala Lumpur and Penang.
The company will first operate four weekly flights to Langkawi via Penang before increasing this frequency to five weekly flights from 27 October 2019.
The flights will be operated by the Boeing 787 Dreamliner, an ultra-modern aircraft with 22 seats in Business Class and 232 seats in Economy Class and spacious cabins offering elegantly designed interiors.
With its wooded hills, exceptional white sandy beaches and turquoise waters, Langkawi is highly appreciated by travellers. This archipelago of 99 atypical islands surrounded by the Andaman Sea is located near the west coast of Malaysia.
Known as the « Jewel of Kedah », Langkawi is home to lush tropical forests and mangroves with very rich fauna and flora. The archipelago was also ranked among the 50 places to visit by Travel + Leisure magazine in 2019.
On the same subject