Naturist tourism: Nudefest, a festival right before Brexit 
To attend the Nudefest Festival, you will have to go to Langport in the southwest of the United Kingdom. It is a small town in the canton of Somerset. The small town, with just over 1000 inhabitants, was invaded by more than 500 nudists. A post-Brexit repetition?
A festival that returns every year
Nudefest is back for its 13th edition and will be held at Thorney Lakes Campground, near Langport, for the third consecutive year. The organisers are counting on the arrival of 500 naturists. Nudefest has its website for registration: www.nudefest.co.uk/
An event under the leadership of  » British Naturism « 
The festival runs from Monday, July 8 to Monday, July 15. Participants expose themselves and participate in a wide range of activities.
During this week, there will be physical exercise classes, sports tournaments, health and wellness sessions and artistic activities. There will also be a daily meeting of the choir.
For the more adventurous, they will be able to hit the mark in archery, rifle and clay pigeon shooting. In short, we won't be bored!
Out-of-camping visits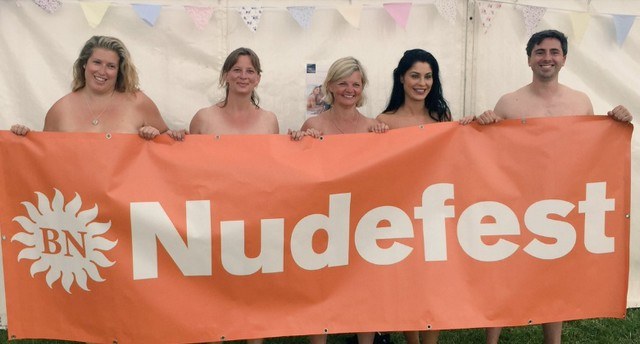 Nigel Pinkstone, the organizer specifies: » We will also take our naturist friends out and make « naked » visits to the Midelney manor, the Cider Brandy farm, the East Somerset steam railway, walks in the countryside….. He adds « It is impossible to describe the pleasure we have and the euphoric feeling of a community sharing the same ideas« .
Oorganization of a run
Local athletes are invited to participate with Nudefest participants in a 5km or 10km run on Saturday morning. It was not specified whether participants would be dressed or not. Otherwise, it is to be feared that it will swing quite a bit….
Growing naturism
Nudism is a growing activity in the United Kingdom. More and more people are discovering how wonderful it is to spend time without clothes.
We can be sure that more perverts who would like to rinse their eyes, will be more numerous on a Google search than in a naturist camp.
There are plenty of naturist beaches in the United Kingdom
Britain's best-known nudist beach offers nearly 1.5 km of white sand, and several dunes protecting privacy. It's Studland Bay, Dorset.
Studland's hedonistic history dates back to the 1920s and its facilities are numerous. The beach includes a dedicated gay section, local naturist cottages and the excellent Studland summer campsite.
Like most British nudist camps, it is reserved for couples and families. As their website reasonably states: « Tall adults over 18 years of age must be nude… if time permits » A site to learn a little more : www.studlandsummercamp.co.uk
Or Brighton Beach…
On April 1, 1980, Brighton made history by opening its naturist beach… the first public naturist beach in the UK.
This naturist beach is said to have experienced a scandal following the film « Carry On Emmannuelle ».
In this film we found the actor Kenneth Williams. Although he was respected in the film industry, he suffered from depression and had difficulty accepting his homosexuality. Unfortunately, he died in 1988 after an overdose in April 1988.
It took Britain a long time to emancipate itself.
Some former British colonies are suffering
always of Article 377A which makes it possible to condemn homosexuality.
In short, since those years, Brighton has remained one of the most visited naturist sites in Great Britain.
Why not at St Osyth in Essex
The wild naturist beach of St Osyth, is a bucolic introduction to swimming in a pure state.
Sail through streams, walk on tree trunks and around the dunes to find this almost deserted sandy beach. Its isolated nature means that privacy is guaranteed.
You may be able to meet Nigel Farage, the Eurosceptic of service! The Independence Party is a few kilometres from this place in Clacton.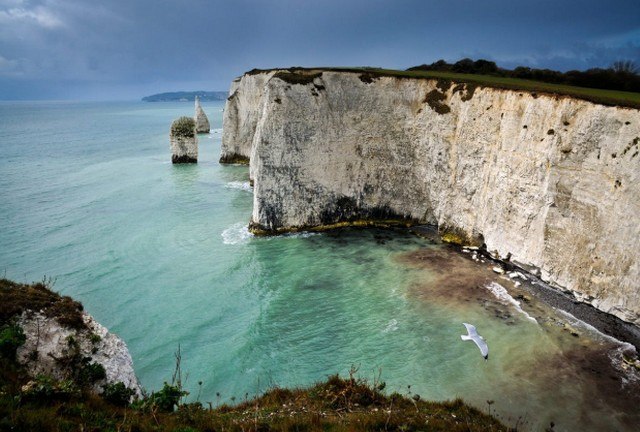 Even in Cornwall
The 300 km of Cornwall Coastal Trail is so isolated that swimmers can expose themselves without much hassle.
Porthzennor is one of these sandy coves. Unofficial naturist beach, it is so isolated that you may encounter some lost hikers.
Between each cliff are several corners of private sand.
There are other places, but we want to keep some secrets. The most curious may always ask us… If they read the article to the end.
Serge Fabre
On the same subject