Latam Airlines is the only airline connecting Israel to Latin America
A Latam Airlines aircraft landed for the first time at Tel Aviv David Ben-Gourion International Airport, marking the beginning of the Santiago – Tel Aviv service via Sao Paulo. This new route is the only direct air link between Latin America and Israel. This strategy is part of the Latam Airlines group's European and international expansion.
« We are inaugurating the first direct flight between Latin America and Israel. The arrival in Israel of Latam Airlines, one of South America's largest airlines, is a major step forward in the air links between Israel and Brazil. This represents a real sign of confidence in the tourist potential of the destination.
Given the considerable increase in incoming tourism from Latin America, the development of this tourism is a key objective.
In this context, the Ministry is also implementing innovative marketing actions, including the filming in Israel of a popular soap opera broadcast in America, » said Yariv Levin, Minister of Tourism of Israel.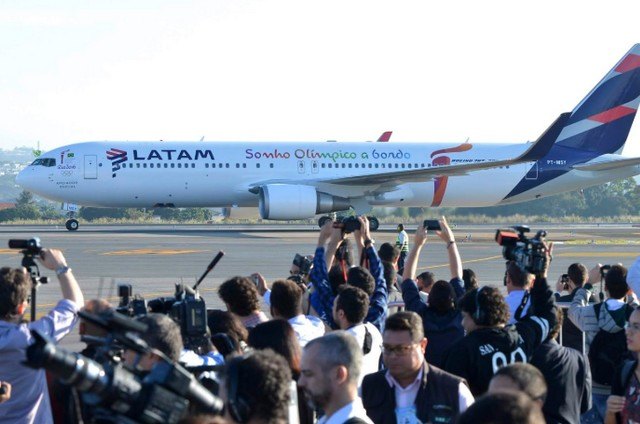 This new route will offer three weekly rotations: Mondays, Wednesdays and Saturdays from Sao Paulo and Tuesdays, Thursdays and Sundays from Tel Aviv. Flight LA712 will depart Santiago de Chile at 21:05 and continue its itinerary at 23:00 from Sao Paulo to land at Tel Aviv airport at 16:05 the next day.
Upon return, flight LA713 will depart from Terminal 3 of Ben-Gourion Airport in Tel Aviv at 6:20 p.m. to land the next day at 5:35 a.m. in Sao Paulo and depart at 7:30 a.m. to land at 10:45 a.m. in Santiago (local time).
Latam's Israeli and Latin American passengers will be able to easily reach more than 120 destinations and cities in Latin America, such as Brazil, Chile, Argentina, Colombia, Ecuador, Peru, Uruguay and Paraguay.
Latam Airlines, a member of the oneworld alliance, will operate its flights in the Boeing 787 Dreamliner, offering 213 seats in economy class and 30 seats in Premium Business. Flights are operated with a full range of services: meals, drinks, two hold baggage items up to 23 kg each, one 8 kg carry-on baggage item, in-flight entertainment, etc. Flights from Tel Aviv take about 15 hours and from Latin America 13 hours.
On the same subject