Flooding at Dubai airport
Flights at Dubai International Airport were delayed Saturday with some cancellations due to flooding. Dubai Airport confirms that due to heavy rainfall and flooding, it is experiencing operational disruptions. Runways were flooded. Passengers were advised to check revised schedules with airlines and allow sufficient time to reach the airport.
A storm that would have lasted more than 10 hours
In January, on average, barely 10 mm of rain fell in Dubai over the entire month. This time, rain fell throughout Friday and the early hours of Saturday. Preliminary information from Dubai suggests 150 mm of rain. Light rains could fall again on Sunday and Monday, the National Meteorological Centre said.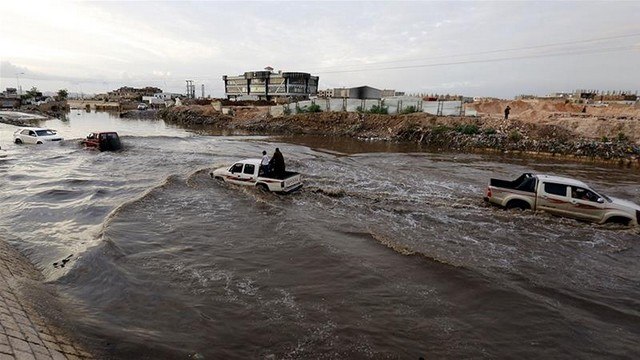 Abu Dhabi also watered
In Abu Dhabi, the road to the airport was impassable with knee-deep water. Drivers were stranded on the road and standing by their vehicles waiting for help.
Roads near Dubai's parks and resorts near Jebel Ali and in the « Dubai Mall » area in the city centre were among the worst affected. The main warning is now over the sea with strong north-westerly winds over the Persian Gulf and the Arabian Sea.
Tunnels under Sheikh Zayed Road in Dubai were impassable in some areas. An image of a taxi with water up to the windshield was widely broadcast online.
The municipality urged residents to report flooding and fallen streetlights by calling 993 or WhatsApp at 056 993 9930.
Abu Dhabi police said the speed limit had been set at 80km/h on all roads in the emirate due to unsafe conditions.
« We are expecting freezing rain and freezing water in the mountains, » said an official from the meteorological centre. « The main warning is now over the sea with strong northwest winds over the Persian Gulf and the Arabian Sea. »
Winds were blowing in the Persian Gulf at 30 knots with waves of up to 12 feet. Rains are expected to continue in the northern, eastern and southern regions from Ras Al Khaimah, Al Ain to Asab.
Serge Fabre
On the same subject