In Switzerland, spas that go up one step
Switzerland is known for its watches, chocolate and banks, but not only. The country has become a Mecca of well-being, with incredible spas everywhere. The one everyone's talking about right now is the « Waldhau Flims ».
A unusual story
Waldhaus Flims opened its doors in 1877. It's a Belle Époque masterpiece. However, the director of the institution does not want to talk about the past. Maybe it's not a salesman because it was a sanatorium where tuberculosis was treated. But since then, the Waldhaus Flims has been getting a makeover in 2017. It's fabulous !
Superb situation
It is 90 minutes southwest of Zurich, surrounded by ranunculus fields, pines and mountains. The Waldhaus is hidden in a closed park near the alpine resort of Flims. It is delightfully quiet, but only minutes from local amenities.
The mountain cable car is five minutes by ski shuttle or 20 minutes on foot along the panoramic promenade. In winter, you can ski to the hotel.
A successful renovation thanks to Peter Silling
It is the guru of German interiors who signed the renovation of the whole. Peter Silling and associates are interior designers of many hotels such as Ritz-Carlton, Jumeirah, Capella … The Waldhaus has kept its historical aesthetic. The hall has been refurbished with sparkling chandeliers and 142 rooms reinvented. They benefit from a palette of colours combining calendula (soothing flower) and cocoa.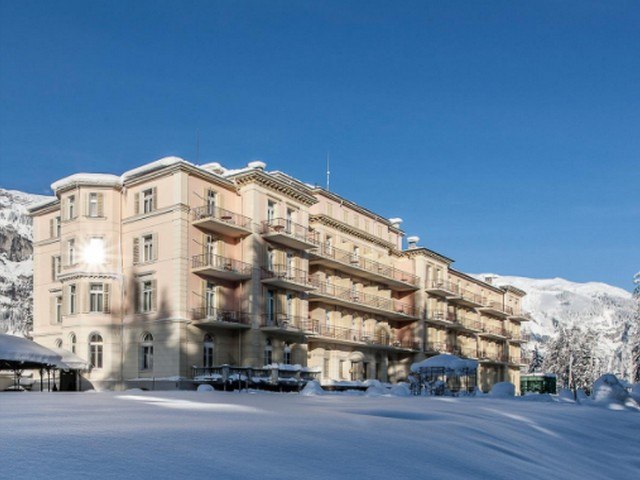 The establishment is divided into three buildings: the Grand Hotel of the 19th century, the Villa Silvana and the discreet Chalet Belmont, all connected by underground passages and covered outside passages.
The Waldhaus Flims is known for its fantastic spa
It is 3 000m² dedicated to well-being. There are of course saunas and hammams, hot springs. The design is minimalist and Japanese inspired.
We laze around coloured walls and soothing stone floors. A glazed swimming pool (fed by hot springs, of course) is perhaps the most characteristic feature of this area.
the most futuristic of the spa, a magnificent cube resting on a stone facade 180 degrees from the distant Alps.
You will discover a cave heated with wood and a labyrinth of treatment rooms (12 treatment rooms).
Health kitchen

The Waldhaus Flim's large spa benefits from partnerships with brands such as Ligne St. Louis Ligne St. Louis Ligne St. Louis . Barth  » and the vegan » Ananné  » which focus on innovative anti-aging skin care.
For massages, you go around the world with therapies from Hawaii, India and Japan. But will you have the courage to go for a walk in the natural pond? In winter, you jump into an ice hole and then warm up in the famous cave heated by the wood stove. A joy !
Think of sustenance… at least
Breakfast is served in the Grand Hotel. In addition to a hearty continental buffet, you can ask for eggs prepared to order. You can have a drink at Chadafö. They offer cocktails inspired by recipes from 1800 to 1930.
For lunch or dinner you will also go to the Grand for a seafood buffet and other treats. For the famous fondue and raclette you will enjoy the restaurant  » Il Tschaler « . In short, you have something for everyone.
You will have a taste by going on their website: www.waldhaus-flims.ch
On the same subject