Cuba saved from the waters
Heavy rains associated with the passage of subtropical storm Alberto caused flooding and floods in central and western Cuba, with road cuts and the collapse of a bridge while a refinery was paralyzed, according to authorities who reported no casualties.
The situation is « complex », said last Monday the president of the defense council of the province of Cienfuegos (center), Lydia Esther Brunet Nodarse.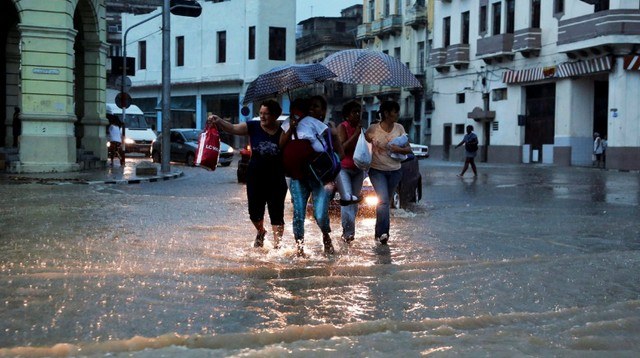 In this province, about 10,000 people were evacuated due to this subtropical storm that formed Friday in the Caribbean, opening the Atlantic hurricane season a week ahead of schedule.
The Cienfuegos oil refinery had to be closed and oil residues dragged to a beach were contained by a dam.
A major highway through the provinces of Cienfuegos and Santa Clara has been cut in several places.
In the province of Sancti Spiritus (centre), a bridge built in 1984 over the river Zaza collapsed, almost under the feet of two people according to images shown Monday evening by state television.
In the province of Ciego de Avila (centre), agricultural cooperatives have been affected and in Pinar del Rio (west), a tobacco producer, the authorities have secured a harvest of some 28 000 tonnes of leaves.
In the centre and west, the national coach and railway company has suspended its services.
The 2018 Atlantic hurricane season could see 10 to 16 tropical storms this year, the National Oceanic and Atmospheric Agency (NOAA) announced Thursday.
Of these, five to nine could turn into hurricanes. Of these, one to four could exceed category 3 (with winds above 178 km/h), on a maximum scale of 5.
On the same subject