Celebrity Flora, the first ship specially designed for the Galapagos Islands
Two years after announcing the construction of its future ship specially designed for sailing across the Galapagos Islands, a world premiere, Celebrity Cruises officially inaugurated the Celebrity Flora. This revolutionary and intimate mega yacht, which can accommodate up to 100 passengers, is entirely composed of suites.
During the ceremony, Richard Fain and Lisa Lutoff-Perlo spoke with the passionate guests about the ship and its concern for the environment, its avant-garde design and the brand's commitment to this impressive region. In
As a nod to these strong themes, the ceremonial ribbon cut was made with a ribbon made by a group of local women artisans and the Ecuadorian national anthem was sung by two local schoolchildren. Celebrity Flora collects a series of « world firsts » in both concept and logistics: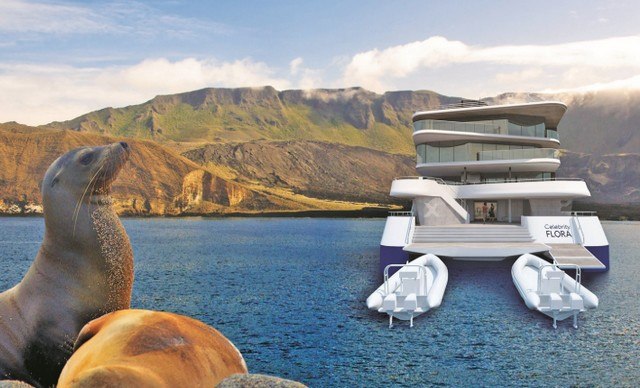 A ship that overturns codes
Celebrity's distinctive exterior design concept offers customers a 360-degree view of the islands at almost every turn. Luxury accommodation consisting solely of suites offers guests all the comfort they need, and of course a top-of-the-range service in complete discretion. Celebrity Flora is distinguished by the first-ever sea glamping experience in the Galapagos, new restaurants, an outdoor stargazing platform, ecological seminars led by experts and more.
A self-sufficient ship
Celebrity Flora will have water filtration plants throughout its suites and will be able to reuse air from the air conditioning to provide water to the ship's laundry services. Reverse osmosis equipment will be used to
that the ship can transform seawater into fresh water on board in order to meet 100% of its needs. In addition, all materials that can be recycled, reused or donated will be part of a strict waste management system.
A ship that respects its environment
Celebrity Flora is also one of the most energy-efficient ships in its class, with a 15% reduction in fuel consumption and an equivalent reduction in air emissions, thanks to the introduction of an advanced propulsion system, hull configuration and diesel engines specially designed for this ship. The
Celebrity Flora's dynamic positioning is a first in the Galapagos. It uses anchorless technology, which maintains the ship's position while protecting the sensitive seabed system, with zero speed stabilizers that promise smooth navigation everywhere.
On the occasion of the inauguration of Celebrity Flora, a complementary partnership was also announced with EarthEcho International, a non-profit organization founded by Philippe Cousteau. Jr., to encourage young people to act for a sustainable future.
The Celebrity Flora will sail all year round from Baltra. It will carry out its inaugural cruise on June 30, 2019. Reservations are open and available on https://www.celebritycruises.fr/flora.php or through an advisor on trips. 7-night cruises and a selection of post- or pre-cruise expedition programs are also available.
On the same subject