Beachcomber Hotels is also growing with its customers
Whether you're traveling with a baby, young children or teenagers, Beachcomber Resorts & Hotels has thought of everything for everyone's comfort! XXL accommodation, a wide range of activities, a unique rate offer… the hotel group does not skimp on the means to offer children and adults alike a wonderful memory box.
True to its tradition of hospitality, Beachcomber has made its hotels into real cocoons for families. Each address of the group offers accommodation adapted to offer privacy and space: suites, apartments or villas specially designed to accommodate families and rooms arranged for children (furniture, linen and adapted toiletries).
In order to ensure that families benefit as much as possible from the facilities reserved for them, the hotel group has devised a single rate policy that applies until the age of 17 when the majority of hotels on the island limit it to children aged 12.
Some meal packages are available for children up to 11 years of age and are available at reduced prices for 12-17 year olds. During the low season, the meal package for children aged 0 to 17 is offered and if the children share their parents' room, they are invited.
Universes specially designed for children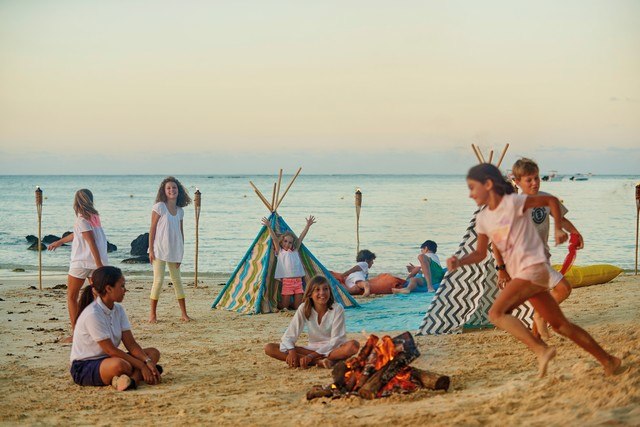 Kids Clubs welcome children aged 3 to 11 from 8am to 9pm and offer a wide range of activities every day, divided by theme: Be Creative, Be Together, Be Local, Be Eco Friendly or Be Sporty. On the program among others, observation of fish in the lagoon, introduction to water skiing or golf, treasure hunting, cooking classes…
And to awaken each of their senses, the Chefs have also created a balanced and tasty cuisine for children, featuring local products.
On the teenage side, the « Teens Clubs », equipped as modern and spacious playgrounds with billiards, table football and table tennis, welcome young people from 12 to 17 years old and invite them to get to know each other through supervised activities (snorkelling, tennis tournaments, shooting short films, etc.).
Beachcomber has also created a unique free mobile application,  » Teens Club Beachcomber  » deployed to date in hotels in the North (excluding the Royal Palm) as well as in Paradis Beachcomber and Dinarobin Beachcomber, which allows, among other things, to consult the day's program of activities, share activities together, exchange with each other and with the hosts, find your way around the hotel and get together with young people.
For toddlers, a wide range of baby accessories are available on request: car seat, sterilizer, bathtub, high chair, cradle, etc….
Additional information: www.beachcomber-b2b.com
On the same subject