Ali Shameem, the sky guru
Originally from the Maldives, Ali Shameem shares his love of astronomy with the hosts of Anantara Kihavah villas in the Maldives on a daily basis. Trained in Pune at Milky Way Citizen by Dr. Parag Mahajani, Shameem has spent the past ten years observing the stars as a professional astronomer.
Living on an island without electricity, Shameem spent his childhood mapping the constellations. Indeed, the Maldives is just above the equator, which allows us to observe more than 15,000 stars with the naked eye. Although he now has the most powerful telescope in the region, he is still amazed by this light show.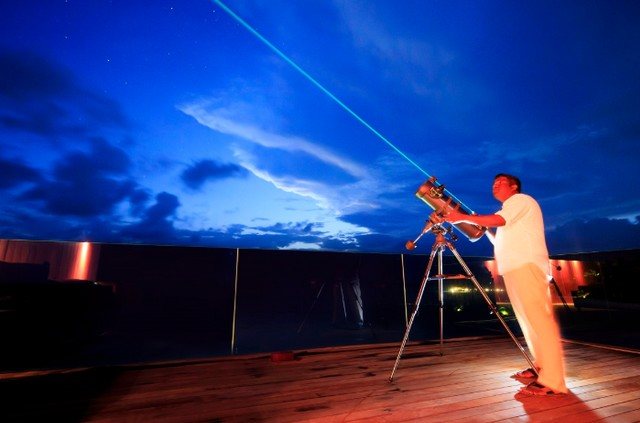 Many personalities in the world of astronomy have taken Shameem under their wing. Among them, Dr. Giovanni Benjamin of the Department of Physics and Astronomy at the University of Padua, Buzz Aldrin, a regular in the Maldives, and Dr. Massimo Tarenghi, who has been Director of the ALMA Observatory in Chile since its foundation. Last year, Shameem went to ALMA to observe the world's largest star sky reserve.
Shameem also fully supervised the launch of the Anantara Kihavah Observatory, from the control of the 3.8-metre-high, custom-made ashen dome to the installation of the Meade LX200 16″ remote-controlled telescope mounted on a giant tripod.
On the evenings of stargazing, he takes his guests on a magical journey through the two constellations of the hemisphere, showing Saturn's pale yellow rings, inverted rotating areas, Jupiter's belts whose width, color and intensity vary from year to year, and the 300,000 stars that make up Messier 13. His favourite is the Omega Centauri, a globular cluster of the Milky Way which, according to him, is « the most beautiful thing ever seen in the world. »
For more information, visit www.skykihavahmaldives.com
On the same subject